KAJIAN KONSEP KONTEKSTUAL BENTUK PADA BANGUNAN DI KAWASAN KOTA LAMA SEMARANG
Bella Mareta Thania

Program Studi Arsitektur, Universitas Muhammadiyah Jakarta




(ID)

Ari Widyati Purwantiasning

Program Studi Arsitektur, Universitas Muhammadiyah Jakarta




(ID)
Abstract
Abstrak_ Desain yang kontekstual merupakan desain yang dapat diterima atau dikenali oleh masyarakat dan selaras atau harmoni dengan lingkungan sekitar. Namun kontekstualitas pada bangunan juga dapat mengenalkan bentuk baru yang selaras dengan lingkungan (dikenal dengan istilah kontras) dan desain bangunan yang sudah ada sebelumnya. Konsep kontekstual biasanya diterapkan pada kawasan-kawasan bersejarah dimana terdapat bangunan bersejarah yang masih dilestarikan. Salah satu kawasan bersejarah yang masih melestarikan nilai-nilai sejarah yaitu Kawasan Kota Lama Semarang. Bangunan sejarah yang ada pada Kawasan Kota Lama Semarang  memiliki nilai sejarah yang tinggi. Hal ini karena, bangunan bersejarah yang ada menggambarkan pengaruh budaya lain pada Kawasan Kota Lama Semarang. Pada bangunan bersejarah, konsep kontekstual dapat dilihat dari motif desain bangunan, bentuk dasar bangunan, dan nilai sejarah. Konsep kontekstual bentuk memiliki dua prinsip yaitu kontras dan harmoni. Prinsip kontekstual bentuk bangunan sangat penting penerapannya pada suatu kawasan terutama kawasan bersejarah. Hal ini dapat mempertahankan identitas kawasan, khususnya Kawasan Kota Lama Semarang yang memiliki beragam bangunan. Metode deskriptif kualitatif merupakan metode yang digunakan dalam penelitian ini. Metode ini digunakan untuk menjelaskan secara deskriptif penerapan arsitektur kontekstual dalam segi bentuk bangunan melalui prinsip yang ada dengan mengetahui batasan kawasan dan jenis-jenis bangunan yang ada pada Kawasan Kota Lama Semarang. Hasil yang ingin dicapai dari penelitian ini adalah mengidentifikasi dan memberikan pemahaman mengenai prinsip-prinsip arsitektur kontekstual pada bentuk bangunan bersejarah di Kawasan Kota Lama Semarang.
Kata kunci : Kawasan Bersejarah; Kontekstual; Prinsip Kontekstual; Kota Lama Semarang.
Abstract_ Contextual Concept is a design that can be accepted or recognized by the community and in harmony with the surrounding environment. However, contextuality in the building can introduce new forms that are in harmony with the environment (familiar with Contrast) and pre-existing building designs. Contextual Concept usually applies to the historical areas that still preserve historical values. One of the historical areas that still preserve historical values is Semarang Old City. Historical buildings that exist in Semarang Old City have a high historical value. It is because existing historic buildings illustrate the influence of other cultures in Semarang Old City. In the historical building, contextual concepts can be seen from the building design motifs, the basic form of the building, and historical value. The concept of contextual form has two principles, namely contrast, and harmony. The contextual principle of the building form is fundamental to be applied in historical areas. It can maintain the identity of the region, especially Semarang Old City which has a variety of buildings. The qualitative descriptive method was used in this study. This method was used to explain the application of contextual architecture descriptively in terms of building shapes through existing principles by knowing the boundaries of the area and types of buildings that exist in Semarang Old City. The results had been achieved from this study were to identify and provide an understanding of the contextual architectural principles of the shape of historic buildings in Semarang Old City.
Keywords:  Historic District; Contextual; Contextual Principles; Semarang Old City.
Downloads
Download data is not yet available.
References
Aldilla Indira , Wiwik Setyaningsih, T. Y. I. (2018). Penerapan Arsitektur Kontekstual Pada Revitalisasi Stasiun. I(1), 37–44.
Eunike Trifena Kolibu, E. Al. (2017). Sekolah Tinggi Ilmu Kesehatan Bethesda Di Tomohon " Arsitektur Kontekstual ." 47–55.
Purwantiasning, AW.; Bahri, S. (2017). (2017). An Application Of Smart Building Concept For Historical Building Using Automatic Control System. Case Study: Fatahillah Museum. International Journal Of Built Environment And Scientific Research, 01(02), 115–122. Https://Doi.Org/Https://Doi.Org/10.24853/Ijbesr.1.2.115-122
Purwantiasning, AW; Bahri, S. (2019). Historical Attachment of Colonial Building Through Community Perception: Case Study of Museum Fatahillah, Kota Lama Jakarta. DOI: 10.21163/GT_2019.141.30. Journal Geographia Technica, Volume 14, Special Issue 2019, pp. 166-175. http://technicalgeography.org/index.php/special-issue-2019/275-18_purwantiasning
Purwantiasning, A. W., Masruroh, F., & Nurhidayah. (2013). Analisa Kawasan Boat Quay Berdasarkan Teori Kevin Lynch. Nalars, 12(1), 59–72.
Rahayuningtyas. (2016). P Enerapan A Lgoritma C4 . 5 Pada A Nalisis ( S Tudi K Asus : Pt K Ayu L Apis A Sli M Urni ). (June 2015).
Vini Asfarilla, Yohannes Firzal, P. A. (N.D.). Perancangan Fakultas Kedokteran Gigi Universitas Riau Dengan Pendekatan Arsitektur Kontekstual. 1–9.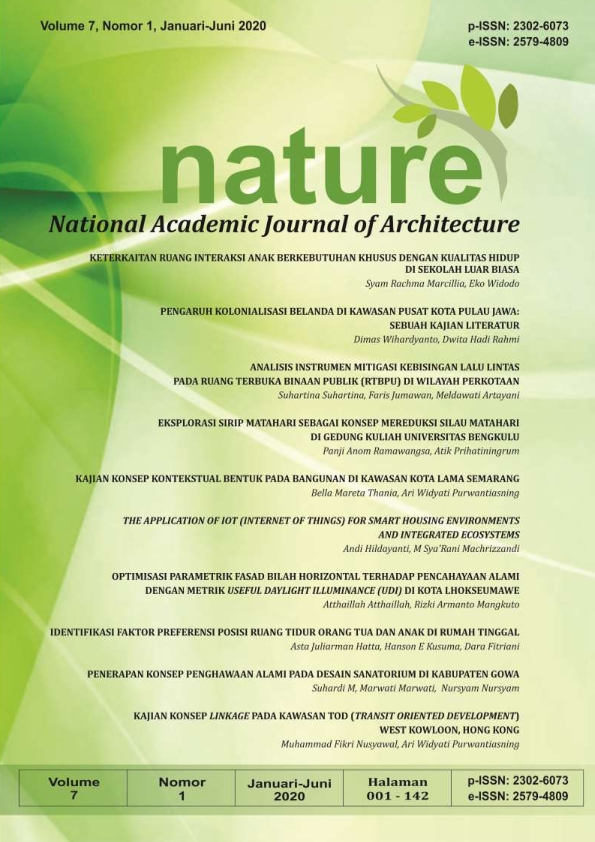 How to Cite

Thania, B. M., & Purwantiasning, A. W. (2020). KAJIAN KONSEP KONTEKSTUAL BENTUK PADA BANGUNAN DI KAWASAN KOTA LAMA SEMARANG. Nature: National Academic Journal of Architecture, 7(1), 66-79. https://doi.org/10.24252/nature.v7i1a5

Section

ARTICLE VOL 7 NO 1, JUNE 2020

Abstract viewed = 1130 times