TELAAH PERMEABILITAS PADA KAWASAN BERSEJARAH CLARKE QUAY DI SINGAPURA
Ari Widyati Purwantiasning

"Scopus ID: 57205221966, Sinta ID: 258474, Program Studi Arsitektur, Fakultas Teknik, Universitas Muhammadiyah Jakarta"




(ID)

http://orcid.org/0000-0001-9418-504X

Lutfi Prayogi

Program Studi Arsitektur, Fakultas Teknik, Universitas Muhammadiyah Jakarta




(ID)

Dedi Hantono

Program Studi Arsitektur, Fakultas Teknik, Universitas Muhammadiyah Jakarta




(ID)

Yeptadian Sari

Program Studi Arsitektur, Fakultas Teknik, Universitas Muhammadiyah Jakarta




(ID)
Keywords:
Permeability; Historical Site; Kevin Lynch; Clarke Quay
Abstract
Abstrak_ Dalam sebuah perencanaan kota, konsep dan teori tentang perencanaan kota menjadi penting sebagai dasar-dasar pemikirannya. Salah satu teori dan konsep yang diperkenalkan oleh Kevin Lynch adalah teori tentang permeabilitas di dalam sebuah Kawasan. Tulisan ini bertujuan untuk mengkaji tentang sebuah Kawasan bersejarah di Singapura yaitu Clarke Quay dengan menggunakan teori permeabilitas yang diperkenalkan oleh Kevin Lynch. Selain itu, penelitian ini juga bertujuan untuk memahami bagaimana sebuah Kawasan bersejarah memiliki kemampuan permeabilitas bagi penggunanya. Telaah yang telah dilaksanakan ini menggunakan metode kualitatif dengan pendekatan deskriptif naratif dengan mengangkat Kawasan Clarke Quay di Singapura sebagai studi kasus untuk dikaji menggunakan teori permeabilitas. Penelitian dilakukan selama enam bulan dan diselesaikan dengan analisis pemetaan menggunakan prinsip-prinsip permeabilitas. Hasil akhir yang dicapai adalah dengan memperlihatkan bagaimana sebuah Kawasan bersejarah harus memiliki kemampuan permeabilitas bagi penggunanya, sehingga Kawasan tersebut juga memiliki legibilitas atau kejelasan seperti yang disampaikan oleh Kevin Lynch dalam teorinya. 
Kata kunci : Permeabilitas; Kawasan Bersejarah; Kevin Lynch; Clarke Quay
Abstract_ In an urban planning, concepts and theories about urban planning become important as the basics of thought. One of the theories and concepts introduced by Kevin Lynch is the theory of permeability in an area. This paper aims to examine a historic area in Singapore, namely Clarke Quay using the permeability theory introduced by Kevin Lynch. In addition, this study also aims to understand how a historic area has permeability capabilities for its users. This study has been carried out using a qualitative method with a descriptive narrative approach by using the Clarke Quay area in Singapore as a case study to be studied using the permeability theory. The study was conducted for six months and was completed by mapping analysis using the permeability principles. The final result achieved is to show how a historicarea must have permeability capabilities for its users, so that the area also has legitimacy or clarity as stated by Kevin Lynch in his theory. 
Keywords :  Permeability; Historical Site; Kevin Lynch; Clarke Quay
Downloads
Download data is not yet available.
References
Iswara, FW., dan Purnomo, H. (2017). Rancangan Sirkulasi Pada Terminal Intermoda Bekasi Timur. Jurnal Sains dan Seni Pomits, Vol. 6 (2), hal. 333-336.
Jusmartrinah, R. (2008). Metamorfosis Ruas Jalur Sirkulasi dalam Perencanaan Fasilitas Perkotaan. UI Publishing.
Lazuardi (2018). Analisis Citra Kawasan Mangkunegaran Berdasarkan Penilaian Stakeholder dengan Konsep Legibility. Jurnal Region 13(1): 95-114.
Lynch K (1960). The Image of The City. Cambridge: The M.I.T. Press & Harvard University Press.
Mauliani, L, Nurhidayah, dan Masruroh, F (2012). Kajian Konservasi Kawasan Bantaran Sungai Studi Kasus: Boat Quay Singapura dan Sungai Ciliwung Jakarta. Jurnal Nalars 11(1): 63-76.
Purwantiasning, A W (2010). Aplikasi Konsep Konservasi Pada Kawasan Bantaran Sungai Studi Kasus: Clarke Quay. Jurnal INERSIA 6(2): 134- 148.
Silavi T, Farshad H, Christophe C, dan Farshad N (2017). The Legibility and Permeability of Cities: Examining the Role of Spatial Data and Metrics. ISPRS Int J Geo-Inf 6(101): 1-20.
Urban Redevelopment Authority (2013). Urban Design Guidelines For Developments Within Singapore River Planning Area. https://www.ura.gov.sg/- /media/User%20Defined/ URA%20Online/circulars/2013/nov/dc13-17/dc13-17_Annex%20A.pdf?la=en diakses pada 6 Januari 2019.
Wally, J F (2015). Studi Citra Kota Jayapura (Pendekatan Pada Aspek Fisik Elemen-Elemen Citra Kota Kevin Lynch). Tesis. Fakulutas Teknik. Universitas Atma Jaya Yogyakarta.
Yavuz, A, dan Kuloğlu, N (2014). Permeability as an Indicator of Environmental Quality: Physical, Function, Perceptual Components of The Environment. World Journal of Environmental Research, 4(2): 29-40.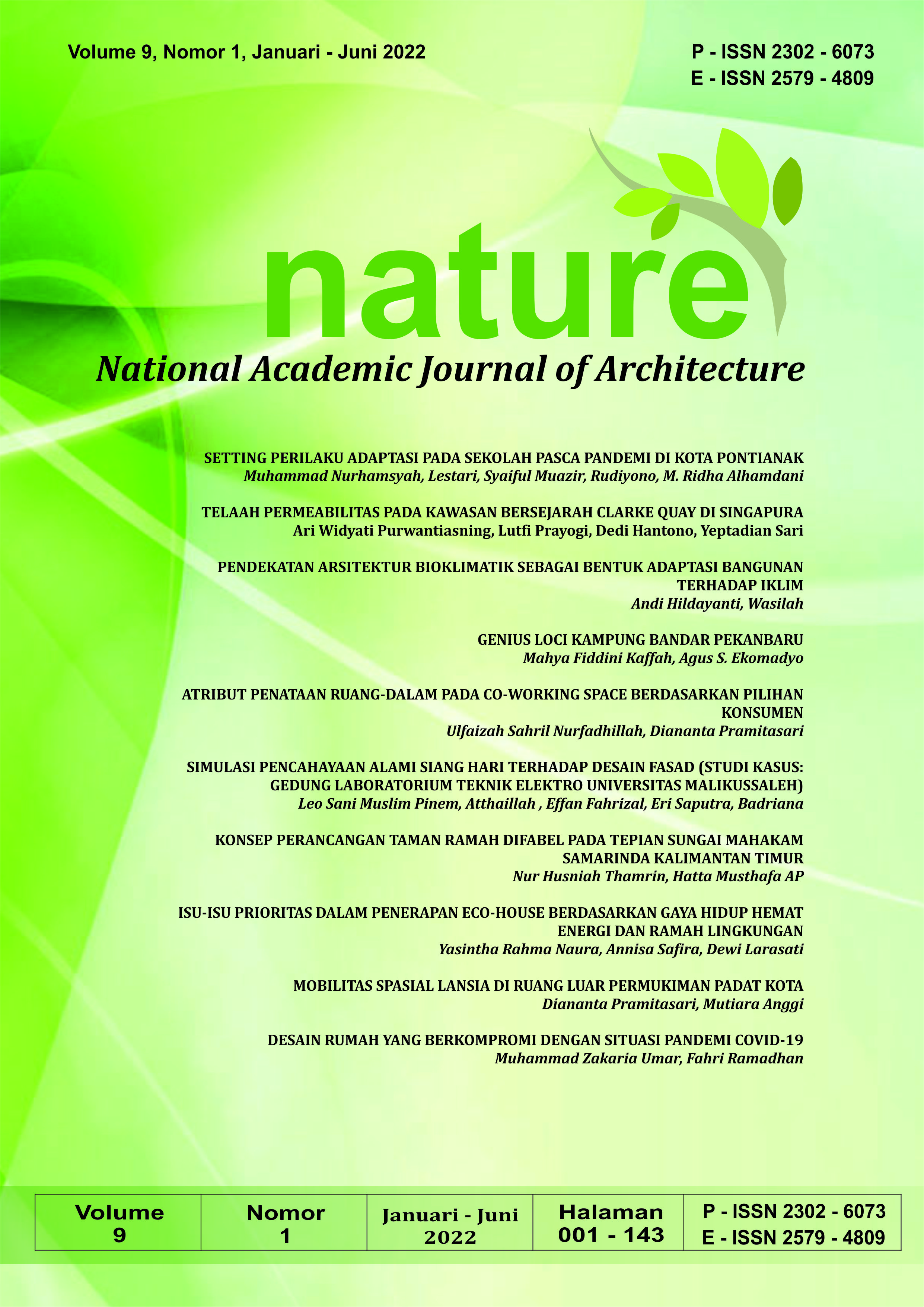 How to Cite
Purwantiasning, A. W., Prayogi, L., Hantono, D., & Sari, Y. (2022). TELAAH PERMEABILITAS PADA KAWASAN BERSEJARAH CLARKE QUAY DI SINGAPURA. Nature: National Academic Journal of Architecture, 9(1), 16-28. https://doi.org/10.24252/nature.v9i1a2
Copyright (c) 2022 Nature: National Academic Journal of Architecture
This work is licensed under a Creative Commons Attribution-ShareAlike 4.0 International License.

Abstract viewed = 220 times