KONSEP ARSITEKTUR HIJAU PADA BANGUNAN BEITOU PUBLIC LIBRARY
Aditya Fhazar Nugraha

Program Studi Arsitektur Fakultas Teknik Universitas Muhammadiyah Jakarta




(ID)

Yeptadian Sari

Program Studi Arsitektur Fakultas Teknik Universitas Muhammadiyah Jakarta




(ID)
Abstract
Abstrak_ Bangunan perpustakan memiliki banyak manfaat dimana terdapat banyak ilmu pengetahuan yang bisa dimanfaatkan dengan baik, namun ketertarikan untuk menggunakan perpustakaan tersebut perlu yang Namanya kualitas pelayanan dan juga tersedianya buku yang lengkap sehingga dapat menarik lebih banyak pengguna untuk dapat mengunjungi perpustakaan. Peranan prinsip rancangan bangunan arsitektur hijau lebih efisien digunakan pada bangunan perpustakaan karena prinsip ini sangat membantu bangunan dalam menciptakan ruang yang nyaman sehingga pengunjung yang datang merasa nyaman berada didalam bangunan.
Kata kunci : Perpustakaan; Bangunan; Arsitektur Hijau.
Abstract_ Library building has many benefits where there is a lot of knowledge that can be put to good use. Still, the interest to use the library needs to be called Quality of service and also the availability of complete books so that it can attract more users to be able to visit the library. The role of green architecture building design principles is more efficiently used in library buildings because this principle is very helpful in building structures to create a comfortable space so that visitors who feel comfortable in the building.
Keywords:  Library; Building; Green Architecture.
Downloads
Download data is not yet available.
References
Afifah, R., Hakim, L., & Anisa. (2018). Penerapan Konsep Arsitektur Hijau pada Bangunan Pusat Penelitian dan Pengembangan Tanaman Herbal di Lembang Bandung. volume 2 n.
Anisa. (2010). Aplikasi Green Architecture Pada Rumah Gedong. VI(2), 158–168.
Karyono, tri harso. (2014). Pengantar Pemahaman Arsitektur Hijau di Indonesia. Radjagrafindo perkasa.
Sudarwani, M. (2012). Penerapan Green Architecture dan Green Building Sebagai Upaya Pencapaian Sustainable Architecture.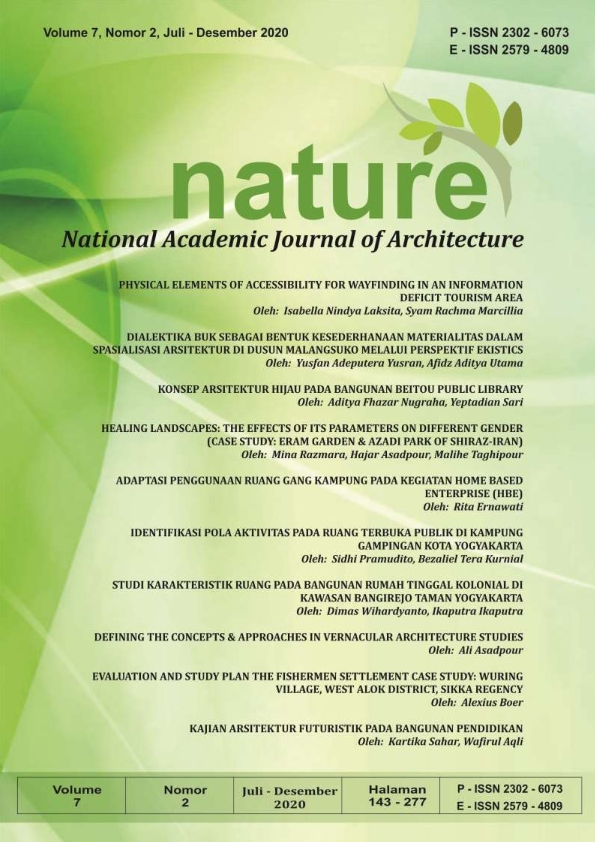 How to Cite

Nugraha, A. F., & Sari, Y. (2020). KONSEP ARSITEKTUR HIJAU PADA BANGUNAN BEITOU PUBLIC LIBRARY. Nature: National Academic Journal of Architecture, 7(2), 172-182. https://doi.org/10.24252/nature.v7i2a3

Section

ARTICLE VOL 7 NO 2, DECEMBER 2020

Abstract viewed = 523 times