PENERAPAN KONSEP PENGHAWAAN ALAMI PADA DESAIN SANATORIUM DI KABUPATEN GOWA
Suhardi M

Jurusan Teknik Arsitektur, Universitas Islam Negeri Alauddin Makassar




(ID)

Marwati Marwati

Jurusan Teknik Arsitektur, Universitas Islam Negeri Alauddin Makassar




(ID)

Nursyam Nursyam

Jurusan Teknik Arsitektur, Universitas Islam Negeri Alauddin Makassar




(ID)
Abstract
Abstrak_Salah satu prinsip arsitektur berkelanjutan berupa sistem penggunaan energi yang efisien seperti penghawaan yang alam dan kurangnya fasilitas rehabilitasi di Kabupaten Gowa. Sanatorium adalah wadah dengan basis pelaksanaan tindakan medis yang berfungsi sebagai tempat isolasi, perawatan dan rehabilitasi pasien TBC (Tuberculosis). Tujuan penulisan adalah membuat desain sanatorium dengan menggunakan konsep penghawaan alami yang berlokasi di Kabupaten Gowa, Kecamatan  Pattallassang, Desa Timbuseng. Metode pembahasan diawali dengan pengumpulan data yang diolah melalui analisis dan sintesis data yang kemudian diproses menjadi sebuah konsep perancangan sanatorium  meliputi kondisi fisik lokasi, bentuk dan ruang , letak dan bentuk bukaan jendela.  Proses analisis diawali dengan pembahasan kondisi fisik tapak berupa elevasi tanah, orientasi angin, lintasan matahari, suhu pada tapak. Kemudian dilanjutkan dengan pengolahan zona ruang dan bentuk dan diakhiri dengan pembahasan letak bukaan jendela pada bangunan. Hasil desain meliputi letak bangunan yang bermassa yang dipisah ruang terbuka, bentuk bangunan tidak lebar, pengelompokan  ruang yaitu zona perawatan, pengelola, poliklinik dan konsep penerapan penghawaan alami berupa model bukaan jendela terbuka pada zoning perawatan
Kata Kunci: Penghawaan Alami; Sanatorium; Kabupaten Gowa .
Abstract_ One of the principles of sustainable architecture in the form of efficient energy use systems is natural memorization and lack of rehabilitation facilities in the Gowa district. The Sanatorium is a container with an implementation base of preventive action that serves as a place of isolation, maintenance, and rehabilitation of TB patients (Tuberculosis). The purpose of writing is to create a sanatorium design using an original memorizing concept in Gowa District, Pattallassang subdistrict, Timbuseng village. The discussion method begins with the collection of data processed through the analysis and synthesis of data then transformed into a design concept of the Sanatorium covering the physical condition of the location, shape, and space, layout and shape of the window openings. The analysis process begins with discussing the site's physical health in the land elevation, wind orientation, sun trajectory, and tread temperature. Then it is followed by the processing of space zones and shapes and concludes with the discussion of window openings in buildings. The results of the design include a building that has a mass split open space, the form of the building is not comprehensive, the space grouping is the maintenance zone, the organizer, the Polyclinic and the concept of implementation of natural aspiration in the form of the open window opening in the treatment zoning
Keywords: Natural Conditioning, Sanatorium, Gowa Districts
Downloads
Download data is not yet available.
References
Ardiani, Y. Mila. 2015. Sustainable Architecture Arsitektur Berkelanjutan. Edited by Erlangga. Jakarta.
Arifah, A B, and M S Adhitama. 2017. "Pengaruh Bukaan Terhadap Kenyamanan Termal Pada Ruang Hunian Rumah Susun Aparna Surabaya." Jurnal Mahasiswa Jurusan Arsitektur 5 (4). http://arsitektur.studentjournal.ub.ac.id/index.php/jma/search/advancedResults.
BPS Kabupaten Gowa, 2017.
Budiastuti, H., Mauliani, L., & Nur'aini, R. D. 2018. "Pengaplikasian Arsitektur Kesehatan Pada Sanatorium Di Gunung Pancar." Purwarupa Jurnal Arsitektur 2 (1): 45–50.
Kementerian Kesehatan RI. 2018. Peraturan Menteri Kesehatan Republik Indonesia Nomor 4 Tahun 2018.
Kusumawardani, N, and J Thojib. 2015. "Sistem Ventilasi Alami Sebagai Dasar Perancangan Jfc Center Di Kabupaten Jember." Jurnal Mahasiswa Jurusan Arsitektur. http://arsitektur.studentjournal.ub.ac.id/index.php/jma/article/view/75.
SNI. 2001. SNI 03-6572-2001 : Tata Cara Perancangan Sistem Ventilasi Dan Pengkondisian Udara Pada Bangunan Gedung. Jakarta.
Tribun Timur. 2016. "Kualitas Udara Kabupaten Gowa Membaik." Tribunnews.Com., 2016.
Utomo, Y, and W Iyati. 2019. "Rekayasa Bukaan Ventilasi Alami Untuk Meningkatkan Kenyamanan Termal Pondok Pesantren Darul Hikam Di Mojokerto." Jurnal Mahasiswa Jurusan Arsitektur. http://arsitektur.studentjournal.ub.ac.id/index.php/jma/article/view/764.
Warren, Peter. 2016. "The Evolution of the Sanatorium: The First Half-Century, 1854–1904." Canadian Bulletin of Medical History. https://doi.org/10.3138/cbmh.23.2.457.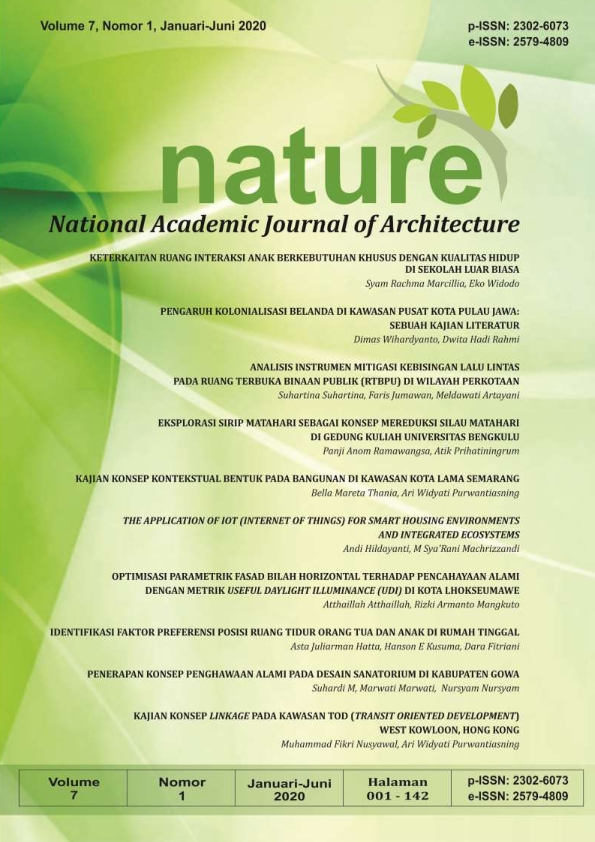 How to Cite

M, S., Marwati, M., & Nursyam, N. (2020). PENERAPAN KONSEP PENGHAWAAN ALAMI PADA DESAIN SANATORIUM DI KABUPATEN GOWA. Nature: National Academic Journal of Architecture, 7(1), 112-124. https://doi.org/10.24252/nature.v7i1a9

Section

ARTICLE VOL 7 NO 1, JUNE 2020

Abstract viewed = 582 times