WUJUD ARSITEKTUR RUMAH TRADISIONAL DI DELTA LAKKANG KOTA MAKASSAR
Marwati Marwati

Sinta ID: 5998661, Alauddin Islamic State University of Makassar




(ID)

A. Eka Oktawati

UIN Alauddin Makassar




(ID)
Abstract
Abstrak_Delta Lakkang adalah salah satu kelurahan di Kecamatan Tallo, Kota Makassar, Sulawesi Selatan. Lakkang merupakan delta yang berada di antara Sungai Tallo dan Sungai Pampang, terbentuk akibat sedimentasi sungai selama ratusan tahun. Rumah merupakan bagian kebudayaan fisik, dalam konteks tradisional merupakan bentuk ungkapan yang berkaitan dengan kepribadian masyarakat. Penelitian ini bertujuan mengetahui ragam wujud rumah panggung yang ada di Lakkang dengan menggunakan studi tipologi arsitektur berdasarkan aspek bentuk, ruang, tampak, struktur, material dan ornamen atau ragam hias dan faktor yang mempengaruhi keragaman wujud arsitektural rumah tradisional di Kelurahan Lakkang. Penelitian kualitatif ini menggunakan metode deskriptif dengan metode pengumpulan data terhadap enam rumah tradisional berupa rumah panggung. Data berupa dokumentasi diperoleh melalui pengamatan, pengukuran dan wawancara. Analisis deskriptif terhadap hasil data tentang tipologi bentuk, tata ruang, struktur dan material dan agam hias atau ornamen rumah dengan bentuk tabulasi silang. Metode wawancara langsung kepada penghuni rumah digunakan untuk mengetahui faktor pengaruh ragam wujud rumah di Delta Lakkang. Hasil penelitian menunjukkan bahwa wujud bentuk dan fasad pada rumah tradisional Lakkang mengikuti bentuk rumah tradisional Makassar dengan tiga zona; zona kaki (fungsi : gudang dan tempat usaha), badan (fungsi:ruang tamu, tidur, dapur)dan kepala rumah (ruang kosong). Wujud tata ruang pada rumah tradisional Lakkang terdiri dari tiga zona depan (teras), tengah (ruang tamu) dan belakang (ruang tidur dan dapur). Area sirkulasi utama berada disisi kiri rumah ( fungsi : penghubung teras dan dapur), bentuk denah segiempat dengan grid yang ukurannya tidak sama. Wujud struktur dan material yaitu pondasi umpak batu, kontrusksi sambungan kayu dan material atap adalah seng. Wujud ornamen atau ragam hias yang ada pada anjong atau ujung bubungan atap berbentuk tanduk kerbau dan railing teras berbentuk buah nanas. Faktor yang mempengaruhi keragaman wujud arsitektural rumah tradisional di Delta Lakkang adalah biaya pembuatan rumah, kemampuan tukang dalam pembuatan rumah, dan kebiasaan meniru bentuk rumah dari daerah asal.
Kata kunci: Wujud Arsitektur; Rumah Tradisional; Delta Lakkang..
Abstract_ Delta Lakkang  is one of the villages in Tallo District, Makassar City, South Sulawesi. Lakkang is a delta that lies between the Tallo River and the Pampang River, formed as a result of river sedimentation for hundreds of years. The house is a part of physical culture, traditionally; it is a form of expression related to the personality of the community. This study aimed to determine the various form of stilt houses in Lakkang by using architectural typology studies based on aspects of shape, space, appearance, structure, material, and ornament / ornamental variety and factors affect the diversity of architectural forms of traditional houses in the LakkangVillage. This qualitative research used a descriptive method with data collection methods on six traditional houses in stilt hoses form. The data was in the form of documentation obtain through observation, measurement, and interviews. Descriptive analysis of the data's results on the typology of the shape, spatial structure, structure and material and ornament of the house formed in crosstabs. The method of direct interviews with residents of the house used to determine the factors influencing the variety of houses in Lakkangdelta. The results showed that the shape and facade of the traditional Lakkang house are followed the shape of the Makassar house with three zones; foot zone (function: warehouse and place of business), body (function: living room, bedroom, kitchen) and head of the house (empty space). The layout in the traditional Lakkang house consisted of three front zones (terrace), center (living room) and back (bedroom and kitchen. The main circulation area was on the left side of the house (function: connecting the terrace and the kitchen). Rectangular floor plan with a grid that was not the same size. The shape of the structure and the material was the foundation of a stone base, the connection of wood and roof material is zinc. The form of ornament that is on the roof is the buffalo horn-shaped and pineapple-shaped patio railing. Factors influencing the diversity of architectural forms of traditional houses in the Lakkang Village are the cost of making a house, the ability of builders to build a house, and the habit of mimicking the shape of a house from the origin area.
Keywords: Architectural forms; Traditional House;Delta Lakkang.
Downloads
Download data is not yet available.
References
Antariksa. 2010. "Menuju Pendidikan Arsitektur Indonesia Berbasis Riset Seminar Nasional Metode Riset Dalam Arsitektur." In . Denpasar: .Udayana University Pres.
Barliana, M Syaom. 2010. Tradisionalitas Dan Modernitas Tipologi Arsitektur Masjid. Kerja sama Metatekstur dengan Laboratorium Sejarah & Teori Arsitektur ….
Habraken, N. J. 1978. General Principles about the Way Built Environments Exist. Stichting Architecten Research.
Pramesti, Dinar Sukma. 2013. "Tipologi Rumah Panggung Di Loloan, Jembrana Berdasarkan Sistem Spasial." Universitas Udayana Denpasar.
Raodah, Raodah. 2012. "Balla Lompoa Di Gowa (Kajian Arsitektur Tradisional Makassar)." Patanjala: Jurnal Penelitian Sejarah Dan Budaya 4 (3):378–90.
Savitri, Savitri, and Nani Sriwardani. 2018. "Produk Tradisional Sunda Sebagai Elemen Dekoratif Pada Desain Interior." ATRAT: Visual Art & Design Journal 6 (2).
Suprijanto, Iwan. 2004. "Rumah Tradisional Osing Konsep Ruang Dan Bentuk." DIMENSI (Journal of Architecture and Built Environment) 30 (1).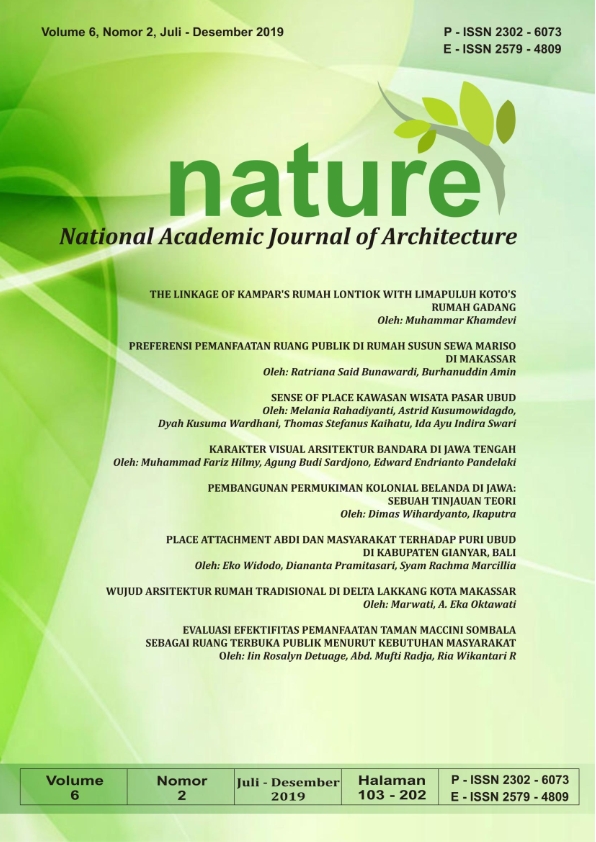 How to Cite

Marwati, M., & Oktawati, A. E. (2019). WUJUD ARSITEKTUR RUMAH TRADISIONAL DI DELTA LAKKANG KOTA MAKASSAR. Nature: National Academic Journal of Architecture, 6(2), 177-193. https://doi.org/10.24252/nature.v6i2a7

Section

ARTICLE VOL 6 NO 2, DECEMBER 2019

Abstract viewed = 431 times