KARAKTERISTIK STRUKTUR DAN KONSTRUKSI BANUA TAMBEN
A. Eka Oktawati

Arsitektur Universitas Islam Negeri Alauddin Makassar




(ID)

Hardiansyah Hardiansyah

Arsitektur Universitas Islam Negeri Alauddin Makassar




(ID)
Abstract
Abstrak_Banua Tamben merupakan rumah tongkonan generasi ketiga, konstruksi arsitektur banua tamben memiliki keunikan dibanding dengan rumah tongkonan saat ini. Penelitian ini bertujuan untuk menemukan karakteristik sistem struktur dan  konstruksi arsitektur banua tamben yang mempresentasikan sistem konstruksi sebagai struktur, dengan fokus pada kajian terhadap proses penyusunan dan penggabungan bagian banua tamben sehingga membentuk sebuah banua tamben yang utuh. Metode penelitian dilakukan dengan penelitian kualitatif, dimana dalam penelitian ini digunakan teknik analisis deskriptif kualitatif. Hasil temuan memperlihatkan bahwa struktur dan konstruksi banua tamben yang tersusun dari beberapa bagian yaitu bagian bawah dan bagian atas. Secara keseluruhan banua tamben memiliki ciri khas konstruksi yang bisa disebut istilah "tamben", (bahasa Toraja = berselang-seling), yaitu  menumpukkan balok melintang  secara tumpang tindih dan berselang-seling sehingga membentuk struktur ruang pada kolom rumah.
Kata kunci: Banua; Tamben; Struktur; Konstruksi
Abstract_ Banua Tamben is a third generation tongkonan house, the architectural construction of Banua Tamben is unique compared to the current tongkonan house. This study aims to find characteristics of the Banua Tamben architectural construction that presents the construction system as a structure, with a focus on the study of the process of compiling and joining parts of the Banua Tamben to form a complete Banua Tamben. The research method used is qualitative research, wherein this research qualitative descriptive analysis techniques are used as a technique in the analysis. The findings show that the structure and construction of the Banua Tamben are composed of several parts, namely the bottom and the top. Overall banua tamben has a characteristic construction which can be called the term tamben, (Toraja language = criss-cross), which is stacking transverse beams overlapping and crossing to form a spatial structure in the column of the house.
Keywords:  Banua; Tamben; Structure; Construction
Downloads
Download data is not yet available.
References
Frick, Heinz. (1998). Sistem Bentuk Struktur Bangunan : Dasar-dasar konstruksi dalam Arsitektur. Yogyakarta : Kanisius
Ismanto, Riyadi. dan Maria, Margareta. Rumah Tongkonan Toraja Sebagai Ekspresi Estetika Dan Citra Arsitektural. (2020). Universitas Kristen Indonesia.
Kis, Jowa Imre. Nooy, Hetty. Schefold, Reimar & Schulz, Ursula. 1988. Banua Toraja: Changing Patterns in Architecture and Symbolism among the Sa'dan Toraja Sulawesi Indonesia. Amsterdam: Royal Tropical Institute.
Priambodo T. (2009). Struktur & Konstruksi Rumah Menengah. sumdhar arsitektur wrinter studio
Said, Abdul Azis. (2004). Toraja Simbolisme Unsur Visual Rumah Tradisional. Yogyakarta: Ombak.
Sir M.M dkk. (2015). Model Tektonika Arsitektur Tongkonan Toraja. Prosiding SNST ke-6.
Sugiyono. (2010). Metode Penelitian Pendidikan Pendekatan Kuantitatif, kualitatif, dan R&D. Bandung: Alfabeta
Tangdilinting L. T. (1978). Tongkonan (Rumah Adat Toraja) dengan Struktur, Seni dan Konstruksinya, Yayasan Lepongan Bulan, Tana Toraja.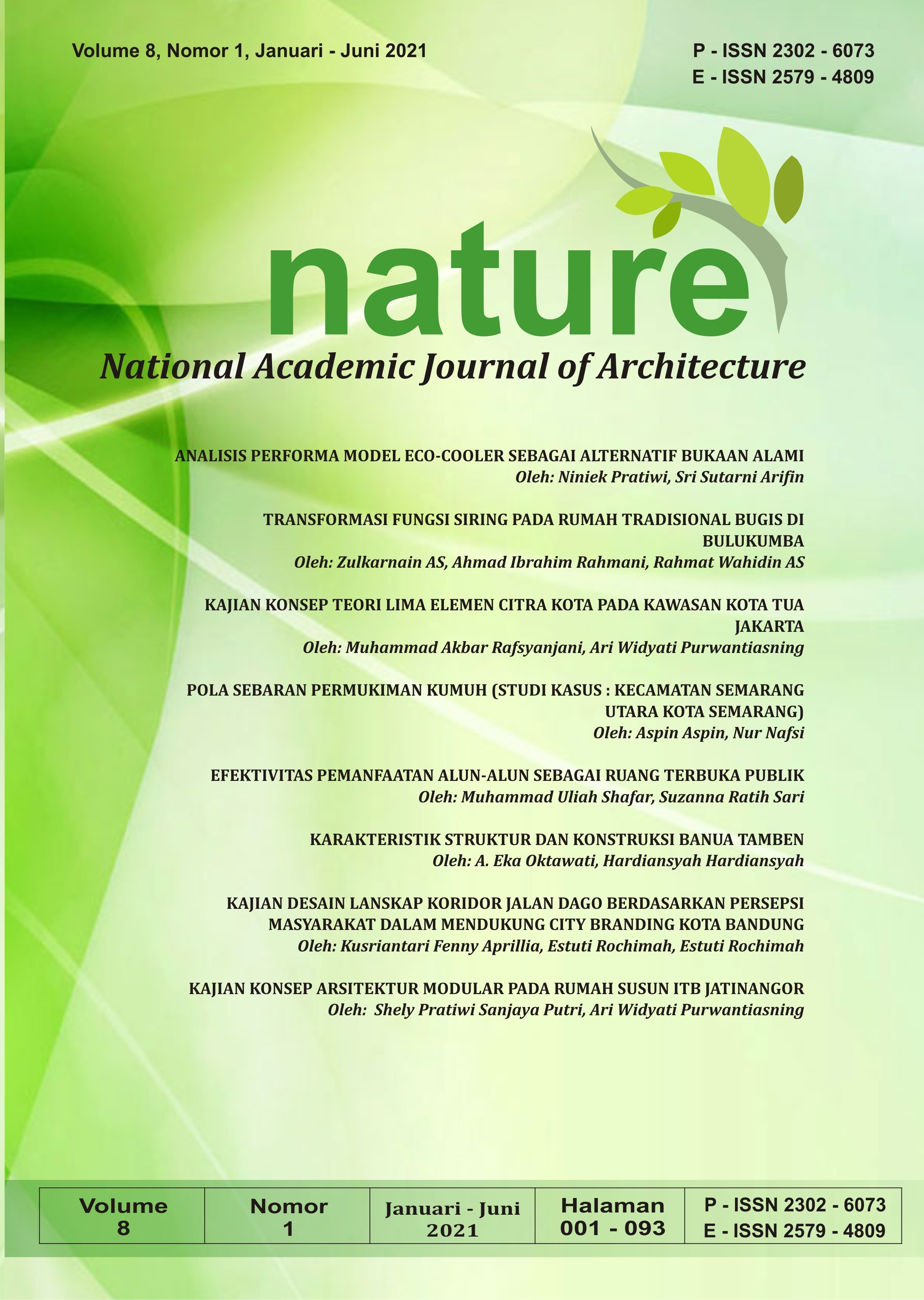 How to Cite
Oktawati, A. E., & Hardiansyah, H. (2021). KARAKTERISTIK STRUKTUR DAN KONSTRUKSI BANUA TAMBEN. Nature: National Academic Journal of Architecture, 8(1), 62-70. https://doi.org/10.24252/nature.v8i1a7
Section
ARTICLE VOL 8 NO 1, JUNE 2021
Copyright (c) 2021 Nature: National Academic Journal of Architecture
This work is licensed under a Creative Commons Attribution-ShareAlike 4.0 International License.

Abstract viewed = 186 times