Intervensi Politik Atas Hak Sehat Secara Spiritual: Studi Atas Pemenuhan Kebutuhan Spiritual Pasien di Rumah Sakit Labuang Baji Makassar
Wahdaniah

Universitas Islam Negeri Alauddin Makassar




(ID)

Syahrir Karim

Universitas Islam Negeri Alauddin Makassar




(ID)
Keywords:
Kebutuhan Spiritual Pasien, Kebijakan Pemerintah, Intevensi Politik
Abstract
Pasien yang di rawat di Rumah Sakit adalah individu yang mengalami gangguan dalam pemenuhan kebutuhan dasarnya. Keadaan tersebut dapat berpengaruh terhadap kondisi psikologis, sosial, dan spiritualitas pasien. Meskipun profesional perawatan kesehatan mengakui pentingnya kebutuhan spiritual, tetapi sampai saat ini masih terdapat banyak variasi dalam penerapan perawatan spiritual. Tujuan penelitian ini adalah untuk mengetahuan gambaran pemenuhan kebutuhan spiritual pasien di Rumah Sakit. Jenis penelitian ini adalah penelitian dengan pendekatan deskriptif yang di lakukan di RS Labuang Baji. Populasi pada penelitian ini yaitu pasien yang sementara mendapatkan perawatan di Ruang Rawat Inap interna. Pengambilan sampel secara Consecutive Sampling dengan jumlah responden sebanyak 30 responden. Secara Politik, butuh kebijakan terkait kebutuhan spiritual pasien. Political will dari pemangku kebijakan sangat menentukan arah kebutuhan kesehatan masyarakat baik mulai pada tingkat pusat sampai ke daerah. Negara harus hadir dalam bentuk intervensi politik untuk memperkuat kesedaran kesehatan masyarakat secara spiritual, karena kesehatan adalah hak dasar masyarakat dan bagian HAM.
References
Berman, A., Snyder, S., Levett-Jones, T., Dwyer, T., Hales, M., Harvey, N., Luxford, Y., Moxham, L., Park, T., Parker, B., Reid-Searl, K., & Stanley, D. (2018). Kozier and Erb's Fundamentals of Nursing. Kozier and Erb's Fundamentals of Nursing, 521.
Laili, N. R., Zulkarnain, H., Yasmara, D., & Sriyono. (2019). Promoting spiritual nursing care in an intensive care unit: A systematic review. Indian Journal of Public Health Research and Development, 10(8), 2773–2777. https://doi.org/10.5958/0976-5506.2019.02291.5
McLeod, S. A. (2007). CT2 Paper 1 Maslow's Hierarchy of Needs. Simply Psychology, 1(1), 1–8.
Tomkins, A. (2023). Spiritual beliefs, practices and needs–their relationship to health status in Denmark. The Lancet Regional Health - Europe, 28(April), 100625. https://doi.org/10.1016/j.lanepe.2023.100625
Ubaidi, B. A. Al. (2017). Integrate of Spiritual Needs into Patient Care. Journal of Family Medicine and Disease Prevention, 3(2), 2–5. https://doi.org/10.23937/2469-5793/1510056
Vincensi, B. (2019). Interconnections: Spirituality, Spiritual Care, and Patient-Centered Care. Asia-Pacific Journal of Oncology Nursing, 6(2), 104–110. https://doi.org/10.4103/apjon.apjon-48-18
Yousefi, H., & Abedi, H. A. (2011). Spiritual care in hospitalized patients. Iranian Journal of Nursing and Midwifery Research, 16(1), 125–132. http://www.ncbi.nlm.nih.gov/pubmed/22039390%0Ahttp://www.pubmedcentral.nih.gov/articlerender.fcgi?artid=PMC3203292
Peraturan Presiden RI No. 72 Tahun 2012, Tentang Sistem Kesehatan Nasional.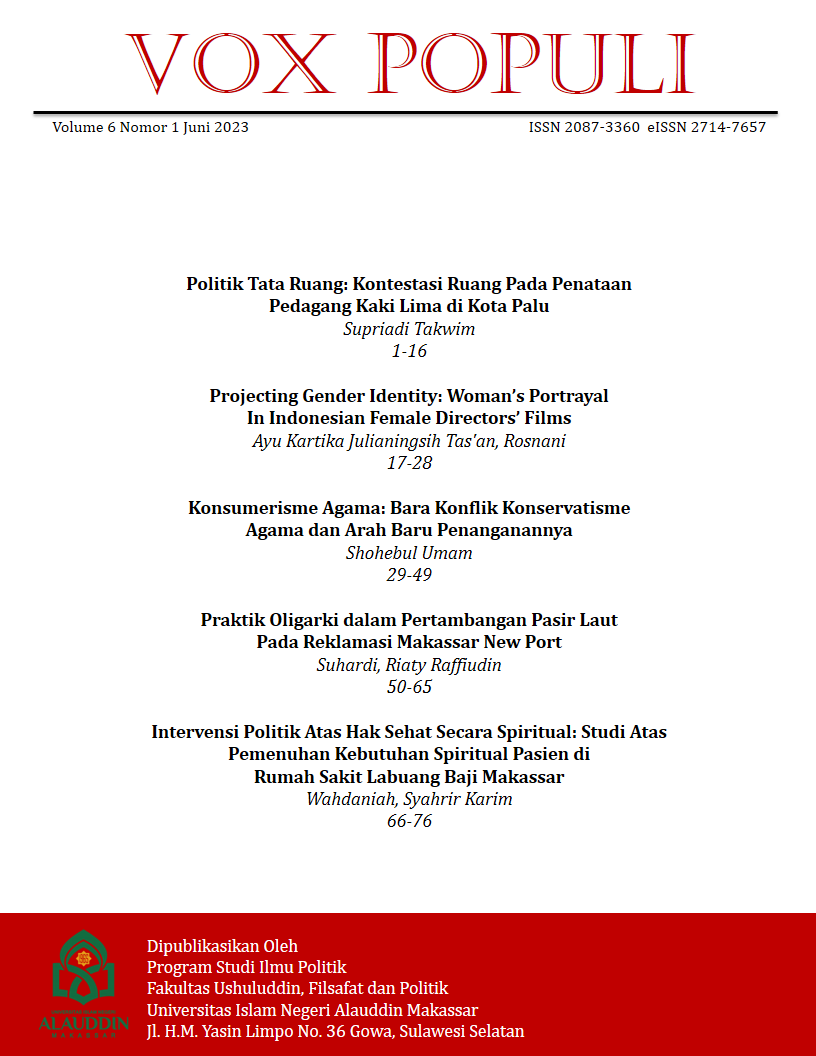 Copyright (c) 2023 Wahdaniah, Syahrir Karim
This work is licensed under a Creative Commons Attribution-NonCommercial-ShareAlike 4.0 International License.

Vox Populi uses license CC-BY-NA-SA or equivalent license as the optimal license use for publication, distribution, use, and reuse of scientific works. To see the rules, you can look here; Indonesia or English.

Abstract viewed = 32 times