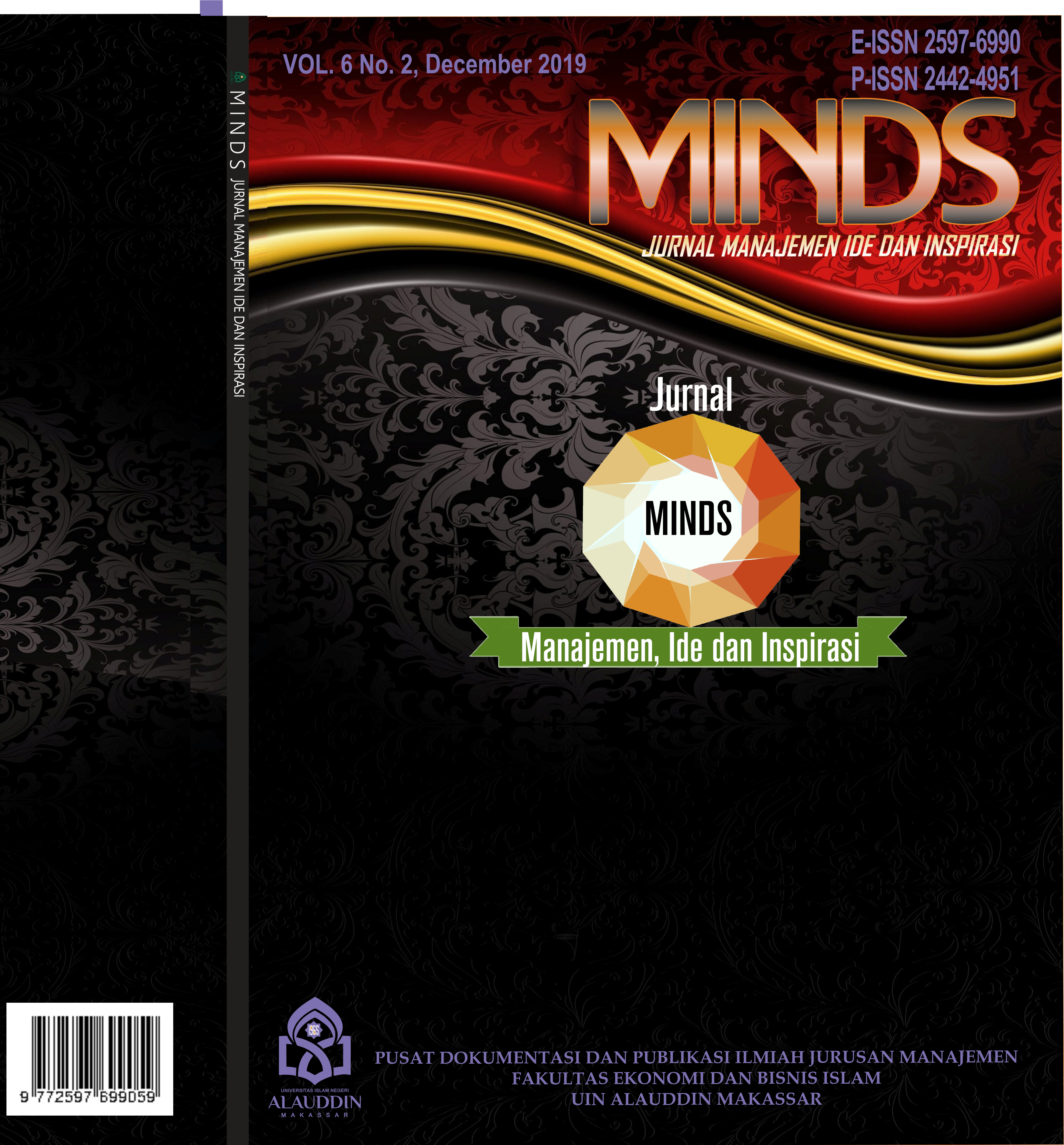 This work is licensed under a Creative Commons Attribution 4.0 International License.
Jurnal Minds: Manajemen Ide dan Inspirasi adheres to the CC BY 2.0 license. You are free to: Share — copy and redistribute the material in any medium or format; Adapt — remix, transform, and build upon the material for any purpose, even commercially.
This license is acceptable for Free Cultural Works.
The licensor cannot revoke these freedoms as long as you follow the license terms.
Information Technology and Market Orientation on the Competitiveness and Performance of a Kuningan's Tourism Activity
Corresponding Author(s) : Wely Hadi Gunawan
welyhadigunawan@uniku.ac.id
Jurnal Minds: Manajemen Ide dan Inspirasi, Vol. 7 No. 2 (2020): December Issue

Abstract
Kuningan local tourism possesses a promising future. However, some investigations cite a decrease in visitors over time, revealing underlying problems in the organization. Critical inquiries may arise from the interaction of information technology and market orientation to increase competitiveness and, finally, tourist attractions' performance. Thus, this study investigates the local tourism activity of Panembongan Hill in Kuningan, Banten, Indonesia. One hundred thirty visitors agree to participate in the study, and the coded responses are analyzed using structural equation modeling. The results reveal that Information Technology does not relate to competitiveness and tourism business performance; market orientation increases competitiveness and business performance. Finally, the competitiveness of tourism activities propels business performance considerably.
References
Abdi, A.M., Yassin, A. & Ali, S. (2013). Innovation and Business Performance in the Telecommunication Industry in Sub-saharan African Context : Case of Somalia. Asian Journal Of Management Sciences & Education. Vol. 2, No. 4, pp.53–67.
Aslizadeh, A. (2014). Impact of Using Information Technology on Creating a Sustainable Competitive Advantage for Companies ; ( Case study : Golestan Food Companies ). Indian Journal of Fundamental and Applied Life Sciences, Vol. 4, pp.1595–1603.
Associate, S.A. (2012). Effect of Core Competence on Competitive Advantage and Organizational Performance. International Journal of Business and Management, Vol.7, No.1, pp.192–205.
Baker and Sinkula. (2005). Product Innovation Management. Journal of Market-Focused Management
Cakmak, P.I. & Tas, E. (2012.). The Use of Information Technology on Gaining Competitive Advantage in Turkish Contractor Firms. World Applied Sciences Journal, Vol. 18, No. 2, pp.274–285.
Chang T.Z and Chen S.J. (1998). Market orientation, service quality, and business profitability: a conceptual model and empirical evidence, Journal of Service Marketing, Vol. 12, p. 246-264.
Clarismary, O.C. (2015). Change in Information Technology and Organizational Performance : a study of Consolidated Hallmark. International Journal of Management and Commerce Innovations, Vol. 3, No. 1, pp.579–587.
Day, G. S. &Wensley, R. (1998). Assessing Advantage: Diagnosing Competitive Superiority. Journal of Marketing, 52(2): 1−20
Dirisu, J.I. & Ibidunni, O.S. (2013). Product Differentiation: a Tool of Competitive Advantage and Optimal Organizational Performance (a Study of Unilever Nigeria PLC ). European Scientific Journal, Vol. 9, No. 34, pp.258–281.
Eruemegbe, G.O. (2015). Effect of Information and Communication Technology on Organization Performance in The Banking Sector. International Journal of Research in Engineering & Technology (IMPACT: IJRET), 3(4), pp.13–22.
Ferdinand, Augusty,. (2006). Metode Penelitian Manajemen. Edisi 2. Penerbit Universitas Diponegoro, Semarang.
Ferdinand, A. T. (2014). Structural Equation Modeling. BP UniversitasDiponegoro, Semarang.
Gareau, S.E. (2004). The development of guidelines for implementing information technology to promote food security. pp.273–285.
Gunawan, W. H. (2018). Faktor-faktor Keunggulan Bersaing dan Implikasi Terhadap Kinerja Perusahaan. Indonesian Journal of Strategic Management, Vol 1, No 2
Ghozali, I. (2011). AplikasiAnalisis Multivariate dengan Program IBM SPSS 19. Badan Penerbit Universitas Diponegoro.
Hair, J.F., Jr., R.E. Anderson, R.L., Tatham & W.C. Black. (1995). Multivariate Data Analysis With Reading., Englewood Cliffs, NJ: Prentice-Hall.
Hamali . S, Hidayat .C and Darman. (2017). Pengaruh Dimensi Inovasi terhadap Kinerja Pemasaran dan Keuangan pada Industri Kecil Pakaian Rajutan Binong Jati Jawa Barat. Banking and Management Review, 6 (1), 790-801
Hana, U. (2013). Competitive Advantage Achievement through Innovation and Knowledge. Journal of Competitiveness. Vol. 5, No. 1, pp.82–96.
Ibrahim, A.R. (2009). The Relationship of Intellectual Capital, Innovation and Organizational Performance : a Preliminary Study in Malaysian SMEs", International Journal of Management Innovation Systems, Vol. 1, No. 1, pp.1–13.
Jersone, B. et al. (2013). Does an Innovation Process Improve. Vol. 13, No. 5
Kohli, A.K. & Jaworski, B.J. (1990). Market Orientation: The Construct, Research Propositions, And Managerial Implications. Journal Of Marketing,
Lumpkin, G. T. & Dess, G. G. (1996). Clarifying The Entrepreneurial Orientation Construct And Linking It To Performance. Academy Of Management Review, 21(1)
Jaworski, Bernard J., and Ajay K. Kohli. (1993). Market Orientation: Antecedents and Consequences, Journal of Marketing. 57 (July): 53 – 70
Koi-akrofi, G.Y. et al. (2011). Information Technology Investments and Organizational Performance of the Telecommunications Industry in Ghana. Journal of Information Technology, Vol. 3, No. 3, pp.118–132.
Ling, L.S., Tee, O.P. & Eze, U.C. (2013). The Effects of Information Technology Applications on Collaborating Capability in Achieving Organisational Competitive Advantages. International Journal of Business and Management, Vol. 8, No. 13, pp.1–15.
Majeed, S. (2011). The Impact of Competitive Advantage on Organizational Performance. International Journal of Business and Management, Vol.3, No. 4, pp.191–197.
Meike. (2009). Strategi Menciptakan Keunggulan Bersaing Produk Melalui Orientasi Pasar, Inovasi, Dan Orientasi Kewirausahaan Dalam Rangka Meningkatkan Kinerja Pemasaran (Studi Empiris Pada Industri Pakaian Jadi Skala Kecil Dan Menengah Di Kota Semarang), Tesis, Universitas Diponegoro
Lenssen, G., Bevan, D., Fontrodona, J., Minoja, M., Zollo, M., & Coda, V. (2010). Stakeholder cohesion, innovation, and competitive advantage. Corporate Governance: The international journal of business in society.
Moghavvemi, S. (2012). Competitive Advantages Through its Innovation Adoption by SMEs. Journal Social Technologies, Vol. 7564, No. 1, pp.24–39.
Muafi & Roostika, Ratna. (2014). Organizational Performance and Competitive Advantage Determinants of Creative SMEs. European Journal Of Economics And Management, Vol. 1, No. 2, pp.7-25
Narver, J.C., &Slater, S.F. (1990). The Effect of Market Orientation on Product innovation. Journal of Marketing. P.20-35.
Nustini, Y. (2003). Dupont Analysis of an Information Technology. JAAI, Vol. 7, No. 2, pp.139–158.
Ofori, D. et al. (2015). Innovation and Knowledge Sharing: a New Competitive Advantage in the Mobile Telecommunication Industry in Ghana. Science Journal of Business and Management. Vol. 3, No. 5, pp.157–163.
Olusola, A. & Oluwaseun, Y. (2013). An Appraisal of the Impact of Information Technology ( IT ) on Nigeria Small and Medium Enterprises (SMEs) Performance, International Journal of Academic Research in Management (IJARM), Vol. 2, No. 4, pp.140–152.
Porter, M.E. (1985). Competitive Advantage: Creating and Sustaining Superior Performance: With a new introduction.
Rianto S. (2018). Analisis Pengaruh Lingkungan Internal dan Eksternal terhadap Keunggulan Bersaing dan Kinerja Usaha Kecil Menengah (UKM) di Madiun. Jurnal manejemen bisnis dan inovasi. Vol. 5, No. 3,pp.159-167
Ringim, K.J., Razalli, M.R. & Hasnan, N. (2012). Moderating effect of Information technology (IT) capability on the relationship between business process reengineering factors and organizational performance of Bank. Journal of Business Management, Vol. 6, No. 16, pp.5551–5567.
Rusdi, J.F. (2019). Peran Teknologi Informasi pada Pariwisata Indonesia", Jurnal Accounting Information System, Vol. 2, No.2,pp.78-118
Russell, S.N. & Millar, H.H. (2014). Exploring the Relationships among Sustainable Manufacturing Practices, Business Performance, and Competitive Advantage : Perspectives from a Developing Economy. Journal of Management and Sustainability, Vol. 4, No. 3, pp.37–54.
Sciences, M. et al. (2011). Gaining Competitive Advantage and Organizational Performance through Customer Orientation. Innovation, Differentiation. Vol. 1, No. 5, pp.80–91.
Setyawati, A. (2014). Effect of Strategic Decision, Innovation, and Information Technology Adoption on Competitive Advantages and MSME Performance Studies at MSME Food and Beverage Industry Sector in Bandung Raya. Europan Journal Business and Management, Vol. 6, No. 35, pp.52–58.
Sharma, M.K. & Bhagwat, R. (2006). Performance measurements in the implementation of information systems in small and medium-sized enterprises: a framework and empirical analysis", Measuring Business Excellence, Vol. 10, No. 4, pp.8–21.
Setyawati & Rosiana. (2015). Inovasi dan Keunggulan Kompetitif sebagai Variabel Mediasi Pengaruh Orientasi Pasar Terhadap Kinerja BIsnis (studi empiris pada Usaha Kecil dan Menengah di Purwokerto). Jurnal Fokus Bisnis, Vol. 5, No 01.
Setyawati, H.A. (2013). Pengaruh Orientasi Kewirausahaan dan Orientasi Pasar terhadap Kinerja Perusahaan melalui Keunggulan Bersaing dan Persepsi Ketidakpastian Lingkungan sebagai Prediksi Variabel Moderasi (survey pada UMKM Perdagangan di Kabupaten Kebumen). Jurnal Fokus Bisnis, Vol. 12, No. 02.
Soliman, F. (2013). Does Innovation Drive Sustainable Competitive Advantages?. Measuring Business Excellence. Vol. , 9, No. 1, pp.130–143.
Tintin S. (2018). Pengaruh Strategi Inovasi terhadap Keunggulan Bersaing di Industri Kreatif (Studi Kasus UMKM Bidang Kerajinan Tangan di Kota Bandung). Jurnal Riset Bisnis dan Investasi. Vol. 4, No. 1
Tachiki, D., Hamaya, S., & Yukawa, K. (2004). Diffusion and Impacts of the Internet and E-Commerce in Japan.
Ugi T. Maya S. (2019). Pengaruh Usaha Minuman Thai Tea Di Kota Bandung. Proceeding Polban
Veerendrakumar, M. & Shivashankar, K. (2015). Economics and Management Sciences Exploratory Study on Achieving Sustainable Competitive Advantage through Supply Chain Innovation for Strengthening Organizational Performance. International Journal of Economics and Management Sciences. Vol. 4, No. 3, pp 1-6.
Vogel, M. A. (2005). Leveraging InformationTechnology Competencies and Capabilities for a Competitive Advantage. pp 1-197
Waheed, H., Qureshi, T. M., Khan, M. A., & Hijazi, S. T. (2013). The mediating role of knowledge sharing: Organizational performance for competitive advantage and innovation. African Journal of Business Management, 7(7), 536-547.
Wahirayasa, C. G., & Kusuma, A. G. A. A. Peran E-marketing dalam Memediasi Pengaruh Orientasi Pasar terhadap Kinerja Bisnis. E-Jurnal Manajemen Universitas Udayana, 7(6).
Walker, R. M., Damanpour, F., & Devece, C. A. (2011). Management innovation and organizational performance: The mediating effect of performance management. Journal of Public Administration Research and Theory, 21(2), 367-386.