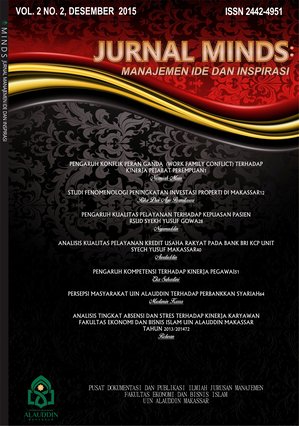 This work is licensed under a Creative Commons Attribution 4.0 International License.
Jurnal Minds: Manajemen Ide dan Inspirasi adheres to the CC BY 2.0 license. You are free to: Share — copy and redistribute the material in any medium or format; Adapt — remix, transform, and build upon the material for any purpose, even commercially.
This license is acceptable for Free Cultural Works.
The licensor cannot revoke these freedoms as long as you follow the license terms.
Explaining E-Wallet Continuance Intention: A Modified Expectation Confirmation Model
Corresponding Author(s) : Muamar Nur Kholid
muamar.nk@uii.ac.id
Jurnal Minds: Manajemen Ide dan Inspirasi, Vol. 8 No. 2 (2021): December Issue

Abstract
This research paper aimed to examine the factors influencing user preferences to continue using E-Wallet. This research paper identified the factors by modifying the Expectation Confirmation Model by adding the Perceived Risk and Trust variables. This research paper employed primary data based on a questionnaire with a sample of E-Wallet users. Data were obtained by distributing online questionnaires, and data from 200 respondents were analyzed using Structural Equation Model – Partial Least Square (SEM-PLS). Data analysis indicated that Perceived Usefulness, Satisfaction, and Trust had a significant positive effect on users' intentions to continue using E-Wallet. On the other hand, confirmation had a positive and significant impact on perceived Usefulness and trust, while no effect on Satisfaction and Perceived Risk. Explanation and implications of data analysis are discussed.
References
Budi. (2020). Generasi Millennial Sumber Ide. DJKN. https://www.djkn.kemenkeu.go.id/artikel/baca/13270/Generasi-Millennial-Sumber-Ide.html
Bhattacherjee, A. (2001). Understanding Information Systems Continuance : An Expectation-Confirmation Model. Management Information Systems Research Center, 25(3), 351–370. https://doi.org/10.2307/3250921
Cao, X., Yu, L., Liu, Z., Gong, M. & Adeel, L. (2018). Understanding Mobile Payment Users Continuance Intention : a Trust Transfer Perspective. Internet Research, 28(2), 456-476. https://doi.org/10.1108/IntR-11-2016-0359
Chandra, Y. U., Kristin, D. M., Suhartono, J., Sutarto, F. S., & Sung, M. (2018). Analysis of Determinant Factors of User Acceptance of Mobile Payment System in Indonesia (A Case Study of Go-Pay Mobile Payment). 2018 International Conference on Information Management and Technology (ICIMTech), Jakarta, Indonesia, 454–459. https://doi.org/10.1109/ICIMTech.2018.8528182
Chen, S. & Dhillon, G. (2003), "Interpreting dimensions of customer trust in e-commerce", Information Technology and Management, 4(2), 303-318. https://doi.org/10.1023/A:1022962631249
Chiu, W., Cho, H., & Chi, C. G. (2020). Consumers' continuance intention to use fitness and health apps: an integration of the expectation–confirmation model and investment model. Information Technology and People. https://doi.org/10.1108/ITP-09-2019-0463
Cho, J. (2016). The impact of post-adoption beliefs on the continued use of health apps. International Journal of Medical Informatics, 87, 75–83. https://doi.org/10.1016/j.ijmedinf.2015.12.016
Davis, F. D. (1989). Perceived Usefulness, Perceived East of Use, and User Acceptance of Information Technology. MIS Quarterly, 13(3), 319–340. https://doi.org/10.1016/S0305-0483(98)00028-0
Evon, T. J. L. L. (2016). Behavioural intention to adopt mobile banking among the millennial generation. Young Consumers, 17(1), 18-31. https://doi.org/http://dx.doi.org/10.1108/YC-07-2015-00537
Foroughi, B., Iranmanesh, M., & Hyun, S. S. (2019). Understanding the Determinants of Mobile Banking Continuance Usage Intention. Journal of Enterprise Information Management, 32(6), 1015–1033. https://doi.org/10.1108/JEIM-10-2018-0237
Giovanis, A., Assimakopoulos, C., & Sarmaniotis, C. (2018). Adoption of mobile self-service retail banking technologies The role of technology , social ,. International Journal of Retail & Distribution Management, 47(9), 894-914 https://doi.org/10.1108/IJRDM-05-2018-0089
Gupta, A., Yousaf, A., & Mishra, A. (2020). How Pre-Adoption Expectancies Shape Post-Adoption Continuance Intentions : An Extended Expectation-Confirmation Model. International Journal of Information Management, 52, 1–13. https://doi.org/10.1016/j.ijinfomgt.2020.102094
Hair, J. F., Hult, G. T. M., Ringle, C. M., & Sarstedt, M. (2017). A Primer on Partial Least Squares Structural Equation Modeling ( PLS-SEM ) (Second Edi). Los Angeles: Sage Publications.
Hidayat, M. T., Aini, Q., & Fetriana, E. (2020). Penerimaan Pengguna E-Wallet Menggunakan UTAUT 2 (Studi Kasus). Jurnal Nasional Teknik Elektro Dan Teknologi Informasi, 9(3), 239–247. https://doi.org/10.22146/.v9i3.227
Hsiao, C. H., Chang, J. J., & Tang, K. Y. (2015). Exploring the influential factors in continuance usage of mobile social Apps: Satisfaction, habit, and customer value perspectives. Telematics and Informatics, 33(2), 342–355. https://doi.org/10.1016/j.tele.2015.08.014
IPSOS. (2020). Penelitian Ipsos: Evolusi Dompet Digital Menuju Keberlanjutan Bisnis. Jakarta. Retrived from https://www.ipsos.com/sites/default/files/ct/news/documents/2020-02/ipsos_-_press_release_-_indonesian.pdf
Jamaludin, F. (2021). Persaingan Ketat, Penyedia layanan Baru Dompet Digital Susah Bersaing. Retrived from https://www.merdeka.com/teknologi/persaingan-ketat-penyedia layanan-baru-dompet-digital-susah-bersaing.html
Kholid, M. N., Urumsah, D., & Hamdani, R. (2018). Expectation Confirmation Model in the Transportation Order Applications: Gender Differences. In 31st IBIMA Conference. Milan Italy. Retrived from https://ibima.org/accepted-paper/expectation-confirmation-model-in-the-transportation-order-applications-gender-differences/
Kumar, A., Adlakaha, A., & Mukherjee, K. (2018). The Effect of Perceived Security and Grievance Redressal on Continuance Intention to Use M-wallets in a Developing Country. International Journal of Bank Marketing, 36(7), 1170-1189. https://doi.org/10.1108/IJBM-04-2017-0077
Mayer, R. C., Davis, J. H., & Schoorman, F. D. (1995). An Integrative Model of Organizational Trust. The Academy of Management Review, 20(3), 709–734. https://doi.org/10.2307/258792
Muhtarom, I. (2021). Persaingan 5 Dompet Digital Berebut Pasar di Masa Pandemi Covid-19. Retrived from https://bisnis.tempo.co/read/1445184/persaingan-5-dompet-digital-berebut-pasar-di-masa-pandemi-covid-19/full&view=ok
Natarajan, T., Balasubramanian, S. A., & Kasilingam, D. L. (2017). Understanding the intention to use mobile shopping applications and its influence on price sensitivity. Journal of Retailing and Consumer Services, 37(February), 8–22. https://doi.org/10.1016/j.jretconser.2017.02.010
Lee, M. C. (2009). Factors Influencing the Adoption of Internet Banking: An Integration of TAM and TPB with Perceived Risk and Perceived Benefit. Electronic Commerce Research and Applications, 8(3), 130–141. https://doi.org/10.1016/j.elerap.2008.11.006
Li, C. Y., & Fang, Y. H. (2019). Predicting Continuance Intention Toward Mobile Branded Apps through Satisfaction and Attachment. Telematics and Informatics, 43(6). https://doi.org/10.1016/j.tele.2019.101248
Loanata, T., & Tileng, K. G. (2016). Pengaruh Trust dan Perceived Risk pada Intention To Use Menggunakan Technology Acceptance Model ( Studi Kasus Pada Situs E-Commerce Traveloka). JUISI (Jurnal Informatika dan Sistem Informasi) , 2(1), 64–73.
Lu, Y., Yang, S., Chau, P. Y. K., & Cao, Y. (2011). Dynamics Between the Trust Transfer Process and Intention to Use Mobile Payment Services : A Cross-Environment Perspective. Information & Management, 48(8), 393–403. https://doi.org/10.1016/j.im.2011.09.006
Oghuma, A. P., Libaque-Saenz, C. F., Wong, S. F., & Chang, Y. (2016). An expectation-confirmation model of continuance intention to use mobile instant messaging. Telematics and Informatics, 33(1), 34–47. https://doi.org/10.1016/j.tele.2015.05.006
Park, E. (2020). User Acceptance of Smart Wearable Devices : An Expectation-Confirmation Model Approach. Telematics and Informatics, 47. https://doi.org/10.1016/j.tele.2019.101318
Park, J., Amendah, E., Lee, Y., & Hyun, H. (2018). M-payment Service : Interplay of Perceived Risk , Benefit , and Trust in Service Adoption. Human Factors and Ergonomics in Manufacturing & Service Industries, 29(1), 31–43. https://doi.org/10.1002/hfm.20750
Pikkarainen, T., Pikkarainen, K., Karjaluoto, H. and Pahnila, S. (2004), Customer acceptance of online banking: an extension of the technology acceptance model, Internet Research, 14(3), 224-235. https://doi.org/10.1108/10662240410542652
Ramadhan, B. (2020). Data Internet di Indonesia dan Perilakunya Tahun 2020. Teknoia. https://teknoia.com/data-internet-di-indonesia-dan-perilakunya-880c7bc7cd19
Rahi, S., Khan, M. M., & Alghizzawi, M. (2020). Extension of Technology Continuance Theory (TCT) with Task Technology Fit (TTF) in the Context of Internet Banking User Continuance Intention. International Journal of Quality & Reliability Management 38(4). https://doi.org/10.1108/IJQRM-03-2020-0074
Salsabilla, S., Kholid, M. N., & Maharani, Y. (2019). Aplikasi Pembelian Tiket Pesawat: Memahami Determinan Niat Melanjutkan Penggunaan. Esensi: Jurnal Bisnis Dan Manajemen, 9(1), 57-68.
Shin, D., & Hwang, Y. (2020). The Effects of Security and Traceability of Blockchain on Digital Affordance. Online Information Review, 44(4), 913–932. https://doi.org/10.1108/OIR-01-2019-0013
Slade, E. L., Dwivedi, Y. K., Piercy, N. C., & Williams, M. D. (2015). Modeling Consumers' Adoption Intentions of Remote Mobile Payments in the United Kingdom: Extending UTAUT with Innovativeness , Risk , and Trust. Psychology and Marketing, 32(8), 860–873. https://doi.org/10.1002/mar
Stone, R. W., & Baker-Eveleth, L. (2013). Students' expectation, confirmation, and continuance intention to use electronic textbooks. Computers in Human Behavior, 29(3), 984–990. https://doi.org/10.1016/j.chb.2012.12.007
Sunny, P., & George, A. (2018). Determinants of Behavioral Intention to Use Mobile Wallets - a Conceptual Model. Journal of Management, 5(5), 52–62.
Susanto, A., Chang, Y., & Ha, Y. (2016). Determinants of Continuance intention touse the smartphone banking service. An Extension to the expectation-confirmation model. Industrial Management & Data Systems, 116(3), 508–525. https://doi.org/dx.doi.org/10.1108/IMDS-07-2015-0266
Susilo, A. Z., Iksan Prabowo, M., Taman, A., Pustikaningsih, A., & Samlawi, A. (2019). A Comparative Study of Factors Affecting User Acceptance of GoPay and OVO as a Feature of Fintech Application. Procedia Computer Science, 161, 876–884. https://doi.org/10.1016/j.procs.2019.11.195
Szymanski, D. M., & Henard, D. H. (2001). Customer Satisfaction : A Meta-Analysis of the Empirical Evidance. Journal of the Academy of Marketing Science, 29(1), 16–35. https://doi.org/10.1177/009207030102900102
Thong, J. Y. L., Hong, S. J., & Tam, K. Y. (2006). The effects of post-adoption beliefs on the expectation-confirmation model for information technology continuance. International Journal of Human Computer Studies, 64(9), 799–810. https://doi.org/10.1016/j.ijhcs.2006.05.001
Upadhyay, P., & Jahanyan, S. (2016). Analyzing User Perspective on the Factors Affecting Use Intention of Mobile Based Transfer Payment. Internet Research, 26(1), 38–56. https://doi.org/http://dx.doi.org/10.1108/IntR-05-2014-0143
Widodo, M., Irawan, M. I., & Sukmono, R. A. (2019). Extending UTAUT2 to Explore Digital Wallet Adoption in Indonesia. 2019 International Conference on Information and Communications Technology, ( ICOIACT ), 878–883. https://doi.org/10.1109/ICOIACT46704.2019.8938415
Wijayanthi, I. M. (2019). Behavioral Intention of Young Consumers Towards E-Wallet Adoption: an Empirical Study Among Indonesian Users. Russian Journal of Agricultural and Socio-Economic Sciences, 85(1), 79–93. https://doi.org/10.18551/rjoas.2019-01.09
Wong, W. H., & Mo, W. Y. (2019). A Study of Consumer Intention of Mobile Payment in Hong Kong, Based on Perceived Risk, Perceived Trust, Perceived Security and Technological Acceptance Model. Journal of Advanced Management Science, 7(2), 33–38. https://doi.org/10.18178/joams.7.2.33-38
Wu, D. S. W. (2017). Understanding Mobile Shopping Consumers Continuance Intention. Industrial Management & Data Systems, 117(1), 213–227. https://doi.org/10.1108/IMDS-02-2016-0052
Yuan, S., Liu, Y., Yao, R., & Liu, J. (2014). An Investigation of Users Continuance Intention towards Mobile Banking in China. Information Development, 1–15. https://doi.org/10.1177/0266666914522140