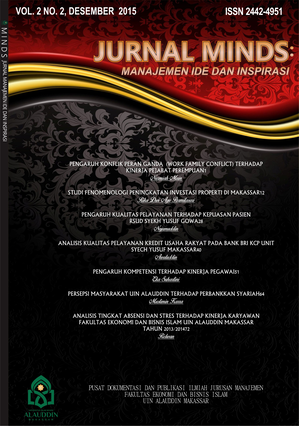 This work is licensed under a Creative Commons Attribution 4.0 International License.
Jurnal Minds: Manajemen Ide dan Inspirasi adheres to the CC BY 2.0 license. You are free to: Share — copy and redistribute the material in any medium or format; Adapt — remix, transform, and build upon the material for any purpose, even commercially.
This license is acceptable for Free Cultural Works.
The licensor cannot revoke these freedoms as long as you follow the license terms.
Competitive Advantage, Entrepreneurial Orientation, Knowledge Sharing, and SMEs' Performance: Mediation-Moderation Analysis
Corresponding Author(s) : Kadarusman Kadarusman
kadarusman@stie-mce.ac.id
Jurnal Minds: Manajemen Ide dan Inspirasi, Vol. 9 No. 1 (2022): June Issue

Abstract
The article investigates the impact of knowledge sharing on company performance with a competitive advantage as a mediating variable and entrepreneurial orientation as a moderating variable. This research uses an RBV theory to determine company performance. Knowledge sharing behavior and entrepreneurial organizations can increase competitive advantage and performance. PLS-SEM technique is employed to analyze the data from 126 Small and Medium Enterprises in the food and beverage entrepreneurs in East Java. This research indicates that knowledge sharing has a favorable and substantial influence on competitive advantage and firm performance. Knowledge sharing positively and significantly affects competitive advantage and performance directly and indirectly. Entrepreneurial orientation does not serve as a moderator.
Keywords
Competitive Advantage
Entrepreneurial Orientation
Knowledge Sharing
Performance
SMEs