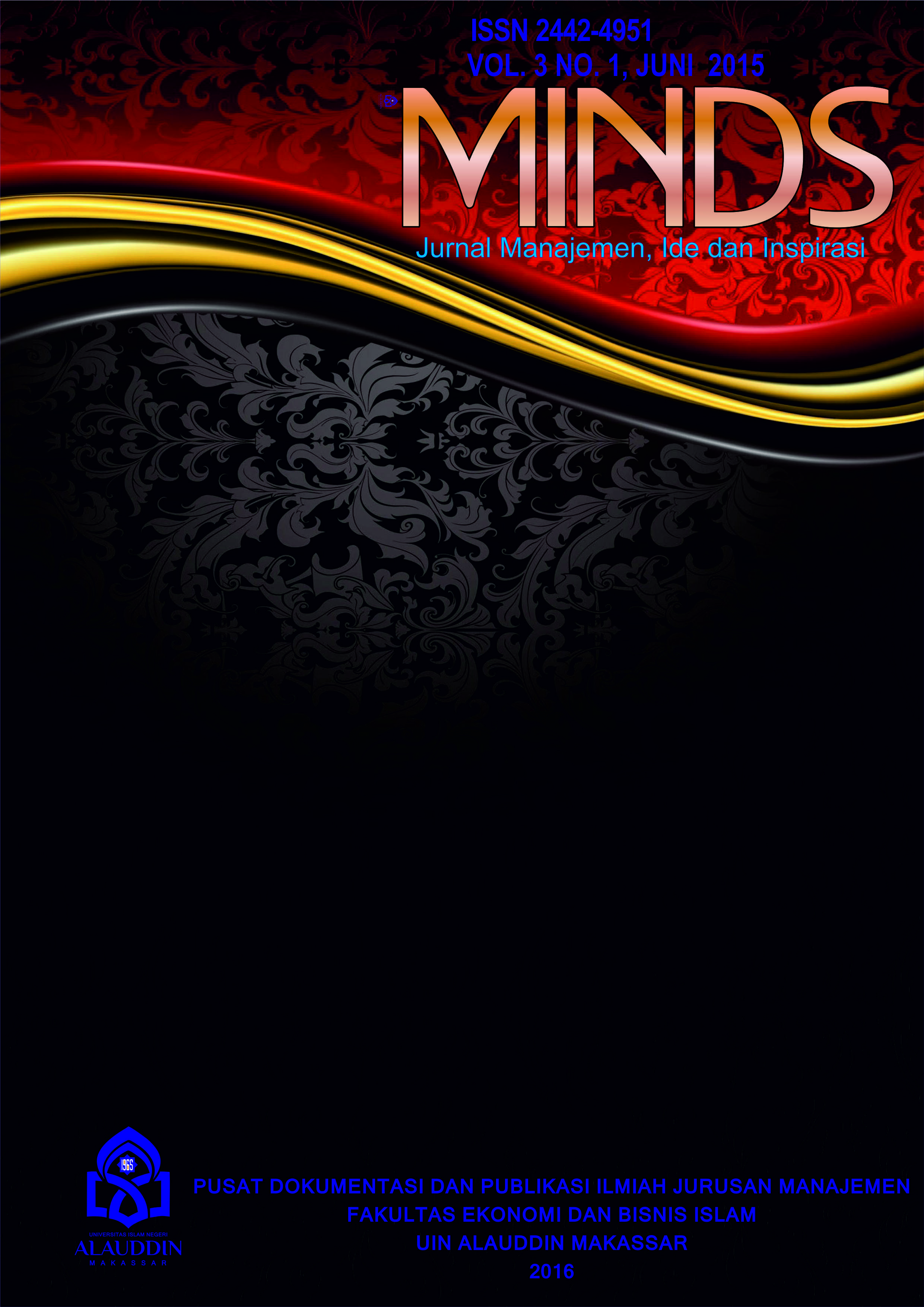 Jurnal Minds: Manajemen Ide dan Inspirasi adheres to the CC BY 2.0 license. You are free to: Share — copy and redistribute the material in any medium or format; Adapt — remix, transform, and build upon the material for any purpose, even commercially.
This license is acceptable for Free Cultural Works.
The licensor cannot revoke these freedoms as long as you follow the license terms.
PASAR UANG DALAM PERSPEKTIF ISLAM
Corresponding Author(s) : Ismawati Ismawati
ismawatiabbas77@gmail.com
Jurnal Minds: Manajemen Ide dan Inspirasi, Vol. 3 No. 1 (2016): June Issue

Abstract
Islam merupakan agama yang rahmatan lil alamin, agama yang membawa rahmat bagi semesta alam dan semua umat tanpa dibatasi oleh ruang maupun waktu. Dalam ajaran agama Islam tercakup semua aspek kehidupan termasuk didalamnya aspek ekonomi. Melihat perkembangan ekonomi di zaman moderen ini, transaksi-transaksi ekonomi semakin kompleks yang tentu tidak sedikit masyarakat muslim yang terlibat di dalamnya, baik secara langsung dan tidak langsung. Sehubungan dengan itu, perlu dilakukan kajian dan sosialisasi secara menyeluruh khusus mengenai hukum pasar uang dalam perspektif ekonomi dan hukum Islam (muamalat), agar umat Islam mendapatkan kepastian hukum yang jelas dan tegas
References
Al-Ghazali. Ihya Ulumiddin,Beirut : Dar Al-Khaer. Cet 2, 2006
Awaluddin, Murtiadi, 2013. Pengaruh Independensi dan Kompetensi Auditor Terhadap Kepuasan Kerja dan Kinerja Auditor Inspektorat Kota Makassar. Jurnal Assets, 3.
Darmawi, Herman, Pasar Finansial dan Lembaga-lembaga Finansial, Jakarta,PT. Bumi Aksara , 2006
Departemen Agama RI, Al-Qur'an dan Terjemahnya ,Jakarta : Proyek Pengadaandan Penyelenggaraan Kitab Suci, 1998
Effendi, Ahmad., 2014. Pengaruh Diversifikasi Program Studi Terhadap Minat Kuliah Mahasiswa Pada Universitas Islam Negeri Alauddin Makassar. Al-Hikmah Journal for Religious Studies, 15(2), pp.206-219.
Hasan, Ahmad . Mata Uang Islami: Telaah Komprehensif Sistem Keuangan Islami, Ed. I ; Jakarta : PT. Raja Grafindo Persada, 2005
Kasmir, Bank dan Lembaga keuangan lainnya, Ed. Revisi, Jakarta : Rajawali Press, 2008
Khaldun, Ibnu.Al-Muqaddimah Beirut : Dar Al-Fikr, 1998
Machmud Amir, Rukmana, Bank Syariah Teori, Kebijaksanaan, dan Studi Empiris di Indonesia, Erlangga, 2010
Parmitasari, Rika Dwi Ayu., 2011. Struktur Organisasi Dan Kepuasan Kerja Karyawan. Samata: Alauddin University Press
Rivai, Veithzal, Financial Institution Manajemen, Jakarta: PT. Raja Grafindo Persada, 2013
Said, S. (2015). Sharia Banking Performance in Makassar. Al-Ulum: Jurnal Studi Islam, 15(1), 21-42.
Said, Salmah. (2012). Pemikiran Ekonomi Muslim Tentang Pasar Modal Syariah. AL Fikkr Volume 16 Nomor 2 Th 2012.
Shantiuli, T. M., & Said, S. (2014). Banking with the patron: a case study of patron-client relations in Makassar, Indonesia. Retrieved APril, 30, 2014.
Suhartini, Eka., 2012. Kualitas pelayanan kaitannya dengan kepuasan konsumen. Alauddin University Press.
Suhartini, Eka., 2013. Motivasi, Kepuasan Kerja dan Kinerja. Samata: Alauddin University Press
Sumitro, Andri, Bank dan Lembaga Keuangan Syariah, Jakarta: Kencana Prenamedia Grouf, 2014
Syariati, Alim & Namla Elfa Syariati. 2012. Islamic Bank as Bank of Ethics. In Proceeding of Annual South East Asian International Seminar.
Syariati, Alim. 2012. The Effect Of Islamic Comercial Banks'health And Their Cost Of Fund Upon Its Financing In Indonesia Over 2005-2009. Proceeding of International Conferrence of AIMI Indonesia
Syariati, Alim. The Effect of Islamic Commercial Banks' Health and Their Cost of Fund Upon its Financing in Indonesia over 2005-2009.
Sylvana, A., Si, M. and Murtiadi Awaluddin. Model Penciptaan Daya Saing Bisnis Melalui Transformasi Kewirausahaan Berbasis Tekhnologi Informasi (Technopreneur). Entrepreneurship at Global Crossroad: Challenges and Solutions, p.71.