Elite English and Literature Journal (Print ISSN: 2355-0821, Online ISSN: 2580-5215) is a peer-reviewed journal devoted specifically to the studies of English linguistics and literature and other literatures with a special emphasis on local culture, wisdom, philosophy and identity. Published twice a year in June and December, the first edition of ELITE was published in 2013. The journal contents are managed by the English and Literature Department, Faculty of Adab and Humanities, Alauddin State Islamic University of Makassar, Indonesia. The primary objective of the journal is to provide a productive forum for lecturers, researchers, authors, graduate students, and practitioners to present results of their recent studies in the areas of English linguistics and literature and other literary traditions. The journal is also intended to help disseminate recent developments in theories, concepts, and ideas in the areas concerned to the academic community of language and literature studies in Indonesia in particular and worldwide in general.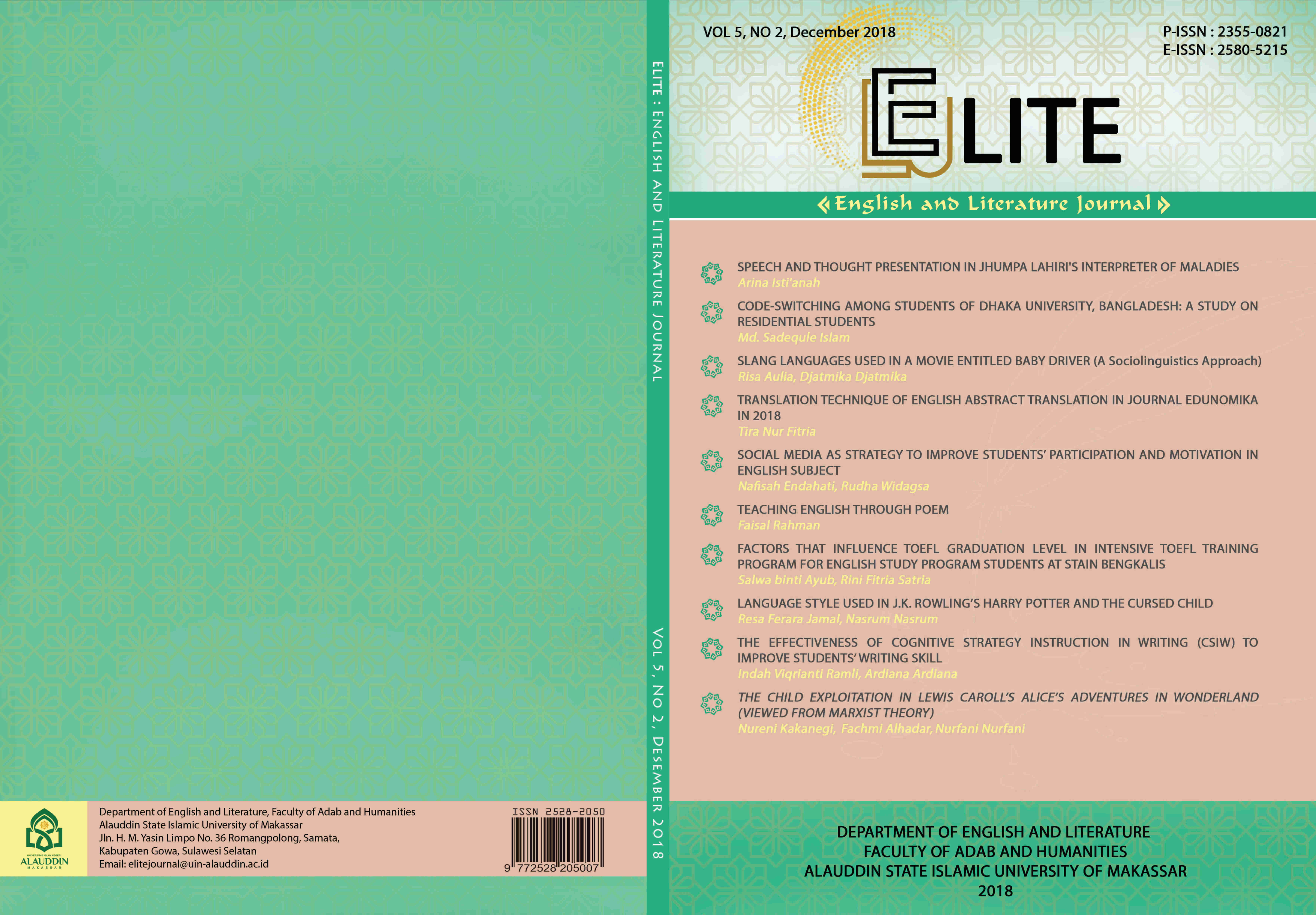 Announcements
Call for Papers

ELITE invites interested scholars, researchers, and practitioners to submit their papers to be considered for publication in June and December 2020 Issue. As email submissions will no longer be accepted, all papers should be submitted online.

Publish:

Vol. 7 No. 1 - June 2020 deadline submission 25 April 2020
Vol. 7 No 2 - December 2020 deadline submission 25 October 2020

Posted: 2019-12-17
More...
Vol 6, No 2 (2019): December
Table of Contents
Yohana Gabriella Nanda Kristiani, Priyatno Ardi

Abstract - 146

108-128
Sabrina Silmi Aulia, Parlindungan Purba, Dian Marisha Putri

Abstract - 75

129-147
Umbu Tonga, Hilda Hafid

Abstract - 40

148-158
Nurhayati S., Rahmi Aulia Nurdini

Abstract - 94

159-172
Alfonsa Saskia Ardanellia, Truly Almendo Pasaribu

Abstract - 40

173-185
Aris Masruri Harahap, Sri Utami

Abstract - 129

186-198
Masrul Huda

Abstract - 26

199-209
Elma Junita Pakpahan, Silvia Agatha Simbolon

Abstract - 41

210-221
Indah Permata Sari, Nuri Emmiyati, Sardian Maharani Asnur

Abstract - 30

222-237
Ermansyah Malik, Ana Rosida

Abstract - 26

238-248
Yosi D Lumban Gaol, Ribka Debora Greace N, Bellaudry Sri Anzelina

Abstract - 39

249-258
Nasrum Nasrum, Nurul Mutmainnah

Abstract - 59

259-275