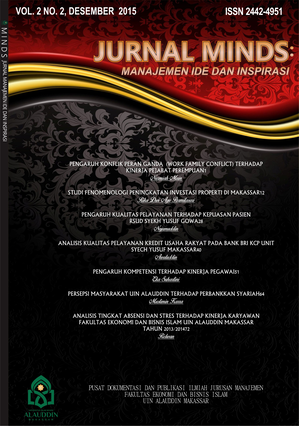 This work is licensed under a Creative Commons Attribution 4.0 International License.
Jurnal Minds: Manajemen Ide dan Inspirasi adheres to the CC BY 2.0 license. You are free to: Share — copy and redistribute the material in any medium or format; Adapt — remix, transform, and build upon the material for any purpose, even commercially.
This license is acceptable for Free Cultural Works.
The licensor cannot revoke these freedoms as long as you follow the license terms.
The Decision to Zakah: The Interacting Roles of Transparency, Service Quality, and Trust
Corresponding Author(s) : Andi Ruslan
oland3aa@gmail.com
Jurnal Minds: Manajemen Ide dan Inspirasi, Vol. 9 No. 1 (2022): June Issue

Abstract
This study aims to examine the effect of transparency and service quality on the decision of muzakki to use the services of a Zakah Management Organization (OPZ) mediated by trust. This research was conducted for six months on 180 Zakah payers at OPZ in Makassar. The survey data were analyzed by structural equation modeling using AMOS. The results showed that muzakki's trust in Zakah management organizations could mediate the relationship between transparency and service quality on muzakki's decisions to use OPZ services in Makassar. This study contributes to the literature on transparency and service quality in increasing the trust and decision of muzakki in using OPZ services in Zakah distribution.
Keywords
Transparency
Service Quality
Trust
Decision
Zakah
References
Abu-Tapanjeh, A. M. (2009). Corporate governance from the Islamic perspective: A comparative analysis with OECD principles. Critical Perspectives on Accounting, 20(5), 556–567.
Amri, K., & Marwiyati, M. (2019). Preferensi Muzakki Membayar Zakat Melalui Baitul Mal: Studi Empiris di Kota Banda Aceh. J-MAS (Jurnal Manajemen Dan Sains), 4(2), 386.
Asminar. (2017). Pengaruh Pemahaman, Transparansi Dan Peran Pemerintah Terhadap Motivasi Dan Keputusan Membayar Zakat Pada BAZNAS Kota Binjai. At-Tawassuth, 3(3), 260–281.
Bahariska, S. (2021). Pengaruh Kualitas Pelayanan Terhadap Keputusan Muzakki Menjadi Nasabah Di BAZNAS Kota Makassar. El - Iqtishod, 5(1), 1–26.
Beik, I. S., & Alhasanah, I. M. (2012). Analisis Faktor-Faktor Yang Mempengaruhi Tingkat Partisipasi dan Pemilihan Tempat Berzakat dan Berinfak. Jurnal Ekonomi Dan Keuangan Islam, Vol.2(No. 1), 64–75.
Boediono, M., Christian, S., & Immanuel, D. M. (2018). Pengaruh Kualitas Produk dan Kualitas Layanan Terhadap Keputusan Pembelian Konsumen Sealantwax. Jurnal Manajemen Dan Start-Up Bisnis, 3(April), 1–10.
Ghozali, I. (2011). Model Persamaan Struktural Konsep dan Aplikasi dengan Program AMOS 22.0. Badan Penerbit Universitas Diponegoro.
Hafidhuddin. (2002). Zakat Dalam Perekonomian Modern. Gema Insani Pres.
Hakim, R. H., & Idris. (2017). Analisis Faktor-Faktor yang Mempengaruhi Kepercayaan Konsumen Serta Implikasinya Terhadap Keputusan Pembelian ( Studi kasus pada Go-Ride di Kota Bandung ). Diponegoro Journal of Management, 6(1), 1–11.
Hasan, M. (2011). Manajemen Zakat. Idea Pres.
Hasrina, C. D., Yusri, & Sy, D. R. A. (2019). Pengaruh Akuntabilitas dan Transparansi Lembaga Zakat Terhadap Tingkat Kepercayaan Muzakki Dalam Membayar Zakat Di Baitul Mal Kota Banda Aceh. Jurnal Humaniora, 3(1), 14–25.
Kabib, N., Al Umar, A. U. A., Fitriani, A., Lorenza, L., & Lutfi Mustofa, M. T. (2021). Pengaruh Akuntabilitas dan Transparansi Terhadap Minat Muzakki Membayar Zakat di BAZNAS Sragen. Jurnal Ilmiah Ekonomi Islam, 7(1), 341. https://doi.org/10.29040/jiei.v7i1.2156
Khoiruman, M., & Warniati, A. (2017). CONSUMER DECISION MODEL (CDM) ANALYSIS OF EFFECTIVENESS VIDEOTRON ADVERTISING SERVED IN SURAKARTA. ProBank: Jurnal Ekonomi Dan Perbankan, 2(1), 69–81.
Kotler, P., & Keller, K. L. (2017). Marketing Management (15th ed.). Pearson Education, Inc.
Kotler Philip, & Gary, A. (2016). Principles of Marketing (13th ed.). Erlangga.
Lendra, & Andi. (2007). Tingkat Kepercayaan Dalam Hubungan Kemitraan. Civil Engineering Dimension, 8(2), 55–62.
Muda, M., Marzuki, A., & Shaharuddin, A. (2006). Factors Influencing Individual Participation In Zakat Contribution: Exploratory Investigation. Seminar for Islamic Banking and Finance 2006 (IBAF2006), 1–10.
Mustafa, M. O. A., Mohamad, M. H. S., & Akhyar, M. A. (2013). Antecedents of zakat payers' trust in an emerging zakat sector: An exploratory study. Journal of Islamic Accounting and Business Research, 4(1), 4–25.
Nasim, A., & Romdhon, M. R. S. (2014). Pengaruh Transparansi Laporan Keuangan, Pengelolaan Zakat, Dan Sikap Pengelola Terhadap Tingkat Kepercayaan Muzakki. Jurnal Riset Akuntansi Dan Keuangan, 2(3), 550.
Nur'aini, H., & Ridla, M. R. (2015). Pengaruh Kualitas Pelayanan, Citra Lembaga dan Religiusitas Terhadap Minat Muzakki Untuk Menyalurkan Zakat Profesi (Studi di Pos Keadilan Peduli Ummat Yogyakarta). Jurnal Mo, 207–228.
Rizky, F. (2021). Realisasi Baru 21,7 Persen, Wapres: Implementasi Zakat 2021 Perlu Ditingkatkan. IDX Channel.Com. https://www.idxchannel.com/syariah/realisasi-baru-217-persen-wapres-implementasi-zakat-2021-perlu-ditingkatkan
Suharnan. (2005). Psikologi Kognitif. Srikandi.
Tjiptono, F. (2009). Service Marketing: Esensi dan Aplikasi. Marknesis.
Triyawan, A., & Aisyah, S. (2016). Analisis faktor-faktor yang mepengaruhi muzakki membayar zakat di BAZNAS Yogyakarta. Islamic Economics Journal, 2(1).
Wahbah Az-zuhaili. (2001). al-Fiqhul-Islami wa Adillatuhu, terj. KH. A. Azis Masyhuri, Fiqih Zakat Dalam Dunia Modern. Penerbit Bintang.
Yuliafitri, I., & Khoiriyah, A. N. (2016). Pengaruh Kepuasan Muzakki, Transparansi dan Akuntabilitas pada Lembaga Amil Zakat Terhadap Loyalitas Muzakki (studi persepsi pada LAZ Rumah Zakat). ISLAMICONOMIC: Jurnal Ekonomi Islam, 7(2), 205–218.
Zainal, H., Bakar, A. A., & Saad, R. A. J. (2016). The Role of Reputation, Satisfactions of Zakat Distribution, And Service Quality in Developing Stakeholder Trust In Zakat Institutions. International Journal of Economics and Financial Issues, 6, 524–530.