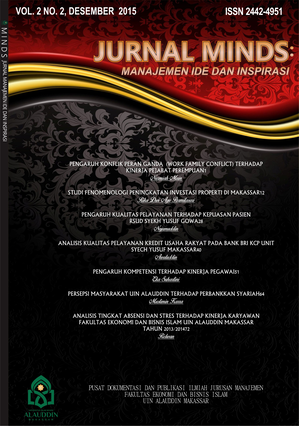 This work is licensed under a Creative Commons Attribution 4.0 International License.
Jurnal Minds: Manajemen Ide dan Inspirasi adheres to the CC BY 2.0 license. You are free to: Share — copy and redistribute the material in any medium or format; Adapt — remix, transform, and build upon the material for any purpose, even commercially.
This license is acceptable for Free Cultural Works.
The licensor cannot revoke these freedoms as long as you follow the license terms.
Demographic Factors, Personality Traits, and the Performance of Cryptocurrency Traders
Corresponding Author(s) : Dewi Prihatini
dewiprihatini@unej.ac.id
Jurnal Minds: Manajemen Ide dan Inspirasi, Vol. 9 No. 1 (2022): June Issue

Abstract
The study determines the relationship between demographic factors and personality traits with the performance of cryptocurrency traders. The research data is obtained from 100 cryptocurrency traders using the quota sampling method, correlational, with a quantitative approach. This study applies the Chi-square test to examine the relationship of demographic factors with performance and the Rank-Spearman test for the relationship of personality traits with performance. The results found that demographic characteristics (gender, age, length of trading) were positively associated with performance. Furthermore, personality traits (extraversion, agreeableness, conscientiousness, neuroticism, openness to experience) have negative and insignificant influences on the performance of cryptocurrency traders.
Keywords
Demographics
Personality Traits
Performance
Cryptocurrency
Traders
References
Adrian, T., & Mancini-Griffoli, T. (2019). The rise of digital money. Annual Review of Financial Economics, 13.
https://doi.org/10.1146/annurev-financial-101620-063859
Anggita, A., & Kawedar, W. (2017). Pengaruh Knowledge Sharing dan Faktor Demografi Terhadap Kinerja Pegawai. Diponegoro Journal Of Accounting, 6(3), 381–392.
https://ejournal3.undip.ac.id/index.php/accounting/article/view/19245/18270
Bandura, A. (1997). Self-efficacy: The exercise of control. W H Freeman/Times Books/ Henry Holt & Co.
Bangun, W. (2012). Manajemen Sumber Daya Manusia. Jakarta: Erlangga. International Journal, 4.
Bartos, J. (2015). Does Bitcoin follow the hypothesis of efficient market? Int. J. Econ Sci. 4, 10–23.
DOI: https://doi.org/10.20472/ES.2015.4.2.002
Bohr, J. & Bashir, M. (2014). Who Uses Bitcoin? An exploration of the Bitcoin community. 2014 Twelve Annual Conference on Privacy, Security and Trust.
DOI: 10.1109/PST.2014.6890928
Bungin, B. (2009). Analisis Penelitian Data Kualitatif. Jakarta: Raja Grafindo.
Bunjaku, F., Gorgieva-Trajkovska, O., & Miteva-Kacarski, E. (2017). Cryptocurrencies – Advantages and Disadvantages. Journal of Economics, 2(1), 31-39.
DOI: https://www.doi.org/10.46763/JOE
Christanti, N., & Mahastanti, L. A. (2011). Factors considered by investors in investing. Journal of Theory and Applied Management, 4(3), 37–51.
http://dx.doi.org/10.20473/jmtt.v4i3.2424
Colin, A., Kyröläinen, P., & Kaakinen, M. (2015). Personality Traits and Stock Market Participation. Personality Traits and Stock Market Participation.
DOI:10.1016/j.jempfin.2015.06.001
Eckel, C. C., & Grossman, P. J. (2008). Men, women and risk aversion: Experimental evidence. Handbook of Experimental Economics Results, 1, 1061–1073.
Faqih, A. (2010). Kependudukan: Teori, fakta dan masalah. Deepublish.
Fiernaningsih, N. (2017). Pengaruh Kepribadian Terhadap Kinerja Karyawan di Hotel Elresas Lamongan. Adbis: Jurnal Administrasi Dan Bisnis, 11(2), 221–230.
http://dx.doi.org/10.33795/j-adbis.v11i2.32
Garay, U. & Pulga, F. (2021). The Performance of Retail Investors, Trading Intensity and Time in the Market: Evidence from an Emerging Stock Market. Heliyon Journal. 7(2021). e08583.
https://doi.org/10.1016/j.heliyon.2021.e08583
Ghozali, I. (2017). Model Persamaan Struktural Konsep dan Aplikasi dengan Program AMOS 24. Semarang: Badan Penerbit Universitas Diponegoro.
Green, C., Jegadeesh, N., & Tang, Y. (2009). Gender and job performance: Evidence from Wall Street. Financial Analysts Journal, 65(6), 65–78.
https://doi.org/10.2469/faj.v65.n6.1
Guterresa, L., Armanu, A., & Rofiaty, R. (2020). The role of work motivation as a mediator on the influence of education training and leadership style on employee performance. Management Science Letters, 10(7), 1497–1504.
http://10.5267/j.msl.2019.12.017
Ivaschenko, A.I. (2016). Using Cryptocurrency in the Activities of Ukrainian Small and MediumEnterprises in order to Improve their Investment Attractiveness. Problems of Economy, (3), p.267-273
Jamshidinavid, B., Chavoshani, C., & Amiri, S. (2012). The impact of demographic and psychological characteristics on the investment prejudices in Tehran stock. European Journal of Business and Social Sciences, 1(5), 41–53.
http://www.ejbss.com/recent.aspx
Lin, H.-W. (2011). Elucidating the influence of demographics and psychological traits on investment biases. International Journal of Economics and Management Engineering, 5(5), 424–429.
http://doi.org/10.5281/zenodo.1081985
Mangkunegara, A. P. (2014). Planning and Development of Human Resources. Bandung: Refika Aditama.
Mathis, R. L., & Jackson, J. H. (2006). Human resource management: Manajemen sumber daya manusia. Terjemahan Dian Angelia. Jakarta: Salemba Empat.
McCrae, R. R., & Costa Jr, P. T. (2013). Introduction to The Empirical and Theoretical Status of The Five-Factor Model of Personality Traits.
Mount, M. K., Barrick, M. R., Scullen, S. M., & Rounds, J. (2005). Higher‐order dimensions of the big five personality traits and the big six vocational interest types. Personnel Psychology, 58(2), 447–478.
https://doi.org/10.1111/j.1744-6570.2005.00468.x
Nakamoto, S. (2008) Bitcoin: A Peer-to-Peer Electronic Cash System.
www.bitcoin.org
Nasyroh, M., & Wikansari, R. (2017). Hubungan Antara Kepribadian (Big Five Personality Model) dengan Kinerja Karyawan. Jurnal Ecopsy, 4(1), 10–16.
http://doi.org/10.20527/ecopsy.v4i1.3410
Nugroho, B. A. (2005). Strategi Jitu Memilih Metode Statistik Penelitian Dengan SPSS. Yogyakarta: Andi.
Oehler, A. & Wedlich (2018). The Relationship of Extraversion and Neuroticism with Risk Attitude, Risk Perception and Return Expectations. Journal of Neuroscience Psychology and Economics. 11(2): 63-92.
DOI:10.1037/npe0000088
Pardede, R., & Manurung, R. (2014). Analisis jalur teori dan aplikasi dalam riset bisnis. Jakarta: PT Rinea Capta.
Pervin, L. A., Cervone, D., & John, O. P. (2010). Handbook of Personality: Teory and Research. Third Edition. The Guilford Press, New York.
Pichet, E., (2017). Bitcoin: Speculative Bubble or Future Value? The onversation (French edition).
http://dx.doi.org/10.2139/ssrn.3103706
Putri, A. (2021). Faktor Demografi Dan Kinerja Karyawan. Unpublished Tesis. Yogyakarta. Universitas Islam Indonesia.
https://dspace.uii.ac.id/bitstream/handle/123456789/31296/16320149%20Alyka%20Putri.pdf?sequence=1&isAllowed=y
Putri, R. A., & Isbanah, Y. (2020). Faktor-Faktor yang Mempengaruhi Keputusan Investasi pada Investor Saham di Surabaya. Jurnal Ilmu Manajemen (JIM), 8(1).
https://jurnalmahasiswa.unesa.ac.id/index.php/jim/article/view/30746/27991
Ramdhani, N. (2012). Adaptasi Bahasa dan Budaya Dari Skala Kepribadian Big Five. Jurnal Psikologi, 39(2), 189–205.
http://doi.org/10.22146/jpsi.6986
Robbins, S. P., & Judge, T. A. (2015). Perilaku Organisasi Edisi Keenam Belas. Translated by Ratna Saraswati Dan Febriella Sirait. Jakarta: Salembah Empat.
Selmer, J., & Lauring, J. (2016). Work engagement and intercultural adjustment. International Journal of Cross-Cultural Management, 16(1), 33–51.
https://doi.org/10.1177/1470595815622491
Simamora, H. (2014). Manajemen Sumber Daya Manusia Edisi Ke-3 Yogyakarta. STE YKPN.
Solimano, A. (2018). Crypto-currencies, Speculation and the Evolution of Monetary Systems. Perfiles Económicos.
https://doi.org/10.22370/rpe.2018.6.1390
Supranto, J. (2000). Teknik Sampling Untuk Survei & Eksprimen. Jakarta: Rineka Cipta.
Sutrisno, H. (2000). Metodologi Research. Yogyakarta : Andi. Yogyakarta.
Tauni, M. Z. (2017). The role of financial advice and word-of-mouth communication on the association between investor personality and stock trading behavior: Evidence from Chinese stock market. Personality and Individual Differences. Elsevier Ltd Vol. 108, 55-65.
DOI:10.1016/j.paid.2016.11.048
Vigna, P. & Casey, M. Review: 'Age of Cryptocurrency,' bitcoin and economy, St. Martin's Press, Inc. Subs. of Macmillan Publishers Ltd. 175 Fifth Avenue New York, NY United States
ISBN:978-1-250-06563-6 PP. 368
Warren, W. E., Stevens, R. E., & McConkey, C. W. (1990). Using demographic and lifestyle analysis to segment individual investors. Financial Analysts Journal, 46(2), 74–77.