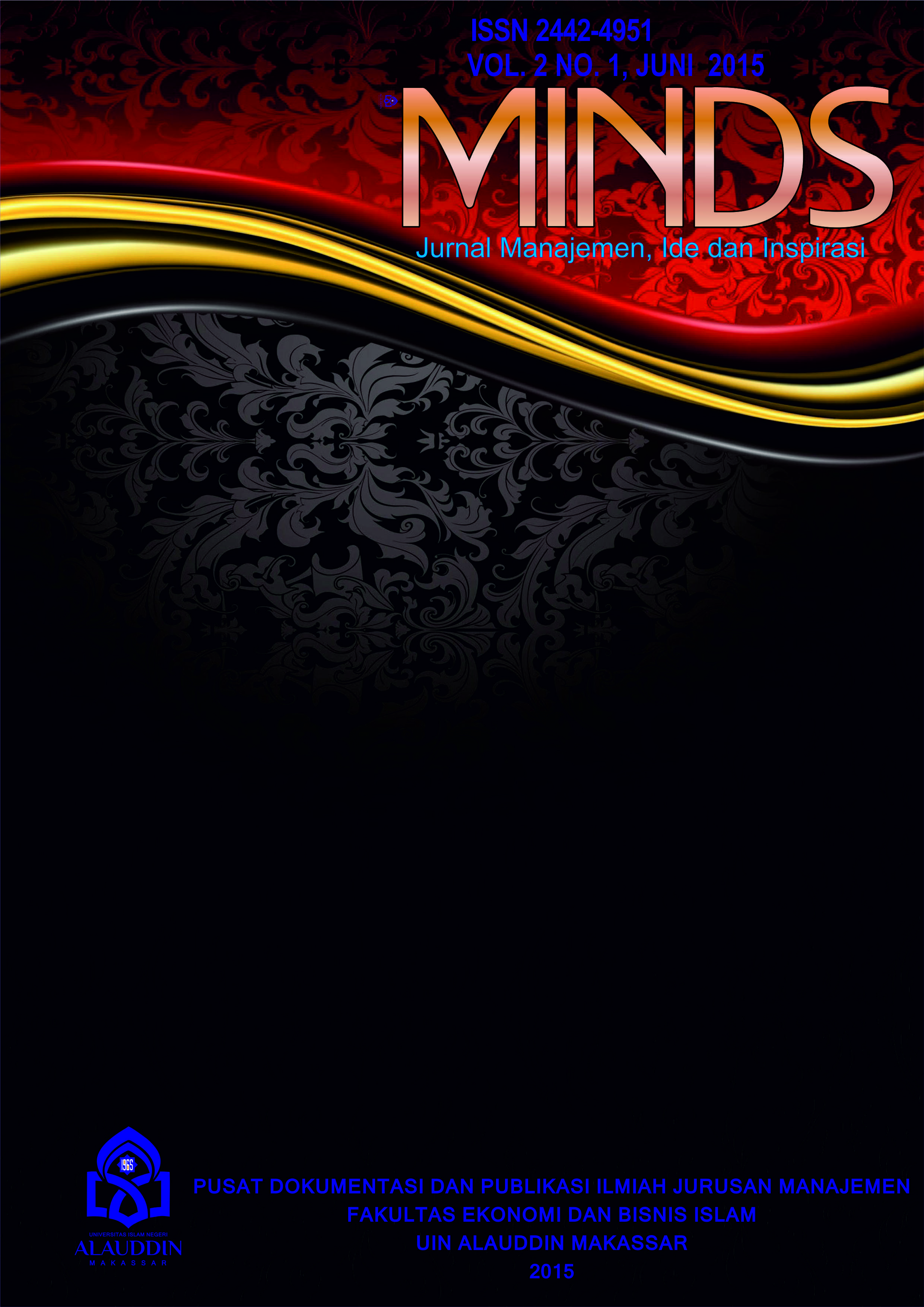 DISIPLIN KERJA DALAM ISLAM
Corresponding Author(s) : Wahidah Abdullah
wahidaabdullah@rocketmail.com
Jurnal Minds: Manajemen Ide dan Inspirasi, Vol. 2 No. 1 (2015): June

Abstract
Work Discipline  is one of the keys to success. Success is the right of every person who discipline in work . Discipline makes things orderly . If everything has been organized , then whatever work we do will be the responsibility and the mandate will be expected to achieve its full potential . the work carried out by the discipline and intentions are sincere and honest to the common good (kemslahatan) would be worth worship as a form of good deeds. Relative to the religion of Islam as a universal religion , not only regulates human life from the aspect of worship , but also regulate all aspects of human life in order to achieve success and happiness in this world and the hereafter. everything in relation to worship has been set out clearly in Islam , so that a Muslim is required to execute them according worship religious guidance . So that,  the discipline is something that is a priority in Islam . These can then be applied in the world of work where we are.
References
Al-Hasyimi, A.M.. Akhlak Rasul Menurut BukhariMuslim.Jakarta: Gema Insani, 2009.
Arisandy, Desy.. Hubungan Antara Persepsi Karyawan Terhadap Disiplin Kerja Karyawan Bagian Produksi Pabrik Keramik "Ken Lila Production" Di Jakarta,( Jurnal Psyche, 1 (2).2004.
As-Shiddieqy, T.M.H..Kuliah Ibadah. (Yogyakarta: Pustaka Rizki Putra , 2011.
Awaluddin, Murtiadi, 2013. Pengaruh Independensi dan Kompetensi Auditor Terhadap Kepuasan Kerja dan Kinerja Auditor Inspektorat Kota Makassar. Jurnal Assets, 3.
Darsono dan Tjatjuk Siswandoko, Manajemen Sumber Daya manusia Abad 21, Jakarta: Nusantara Consulting, 2011.
Effendi, Ahmad., 2014. Pengaruh Diversifikasi Program Studi Terhadap Minat Kuliah Mahasiswa Pada Universitas Islam Negeri Alauddin Makassar. Al-Hikmah Journal for Religious Studies, 15(2), pp.206-219.
Hariandja,Marihot Tua Efendi. Manajemen Sumber Daya Manusia, Jakarta: PT. Grasindo, 2002.
Hasibuan, Malayu S.P. Manjemen Sumber Daya Manusia, Edisi Revisi, Jakarta :PT. Bumi Aksara,2009.
Helmi, A.F.. Disiplin Kerja.Buletin Psikologi. Tahun IV. No. 2: 1996.
Hidayat, H. S. . Pengaruh Kerjasama Orangtua dan Guru Terhadap Disiplin Peserta Didik di Sekolah Menengah Pertama Negeri Kecamatan Jagakarsa – Jakarta Selatan.Jurnal Ilmiah Widya. Vol. 1 (2):2013.
Kementerian Agama RI, Al-Qur'an dan Terjemahannya, Jakarta: PT. Sinergi Utama Indonesia, 2012.
Mangkunegara ,Anwar Prabu. Manajemen Sumber Daya Manusia Perusahaan, Bandung; PT Remaja Rosdakarya,2004.
Parmitasari, Rika Dwi Ayu., 2011. Struktur Organisasi Dan Kepuasan Kerja Karyawan. Samata: Alauddin University Press
Pratiningtyas, R.. Faktor-faktor Organizational Citizenship Behavior : Studi Indigenous pada Karyawan Bersuku Jawa.Journal of Economic Education.Vol. 1 (2): 2012.
Rahmah, Siti. Pengaruh Disiplin Kerja terhadap Produktivitas Kerja Karyawan pada PT. Bank Rakyat Indonesia (persero) Unit Padang Sappa, Skripsi, Makassar, Fak. Syariah & Hukum Universitas Islam Negeri Alauddin, 2012.
Said, S. (2015). Sharia Banking Performance in Makassar. Al-Ulum: Jurnal Studi Islam, 15(1), 21-42.
Said, Salmah. (2012). Pemikiran Ekonomi Muslim Tentang Pasar Modal Syariah. AL Fikkr Volume 16 Nomor 2 Th 2012.
Shantiuli, T. M., & Said, S. (2014). Banking with the patron: a case study of patron-client relations in Makassar, Indonesia. Retrieved APril, 30, 2014.
Shihab,M. Quraish. Tafsir Al-Misbah, Jakarta: Lentera Hati, 2002.
Siagian, Sondang P., Manajemen Sumber Daya Manusia, Cet: X, Jakarta: Bumi Aksara, 2003.
Sinaga, A.T.I. Disiplin Kerja, Pengawasan Kerja dan Prestasi Kerja Pegawai (Studi Kasus di Universitas Huria Kristen Batak Protestan (HKBP) Nommensen Medan). Jurnal Samudra Ekonomi dan Bisnis.Vol. 3 (1): 2012.
Sudarmayanti, Sumber Daya Manusia dan Produltifitas Kerja, Bandung: CV. Mandar Maju,2009.
Suhartini, Eka., 2012. Kualitas pelayanan kaitannya dengan kepuasan konsumen. Alauddin University Press.
Suhartini, Eka., 2013. Motivasi, Kepuasan Kerja dan Kinerja. Samata: Alauddin University Press
Sutrisno, Edy. Manajemen Sumber Daya Manusia, Cet. II; Jakarta: Kencana Prenada Media Group,2010.
Syariati, Alim & Namla Elfa Syariati. 2012. Islamic Bank as Bank of Ethics. In Proceeding of Annual South East Asian International Seminar.
Syariati, Alim. 2012. The Effect Of Islamic Comercial Banks'health And Their Cost Of Fund Upon Its Financing In Indonesia Over 2005-2009. Proceeding of International Conferrence of AIMI Indonesia
Syariati, Alim. The Effect of Islamic Commercial Banks' Health and Their Cost of Fund Upon its Financing in Indonesia over 2005-2009.
Sylvana, A., Si, M. and Murtiadi Awaluddin. Model Penciptaan Daya Saing Bisnis Melalui Transformasi Kewirausahaan Berbasis Tekhnologi Informasi (Technopreneur). Entrepreneurship at Global Crossroad: Challenges and Solutions, p.71.
Widodo, B. Perilaku Disiplin Siswa Ditinjau dari Aspek Pengendalian Diri(Self Control) dan Keterbukaan Diri (Self Disclosure) Pada Siswa SMK Wonosari Caruban Kabupaten Mediun.Jurnal Widya Warta. Vol. 1(37): 2013, h.140-151.