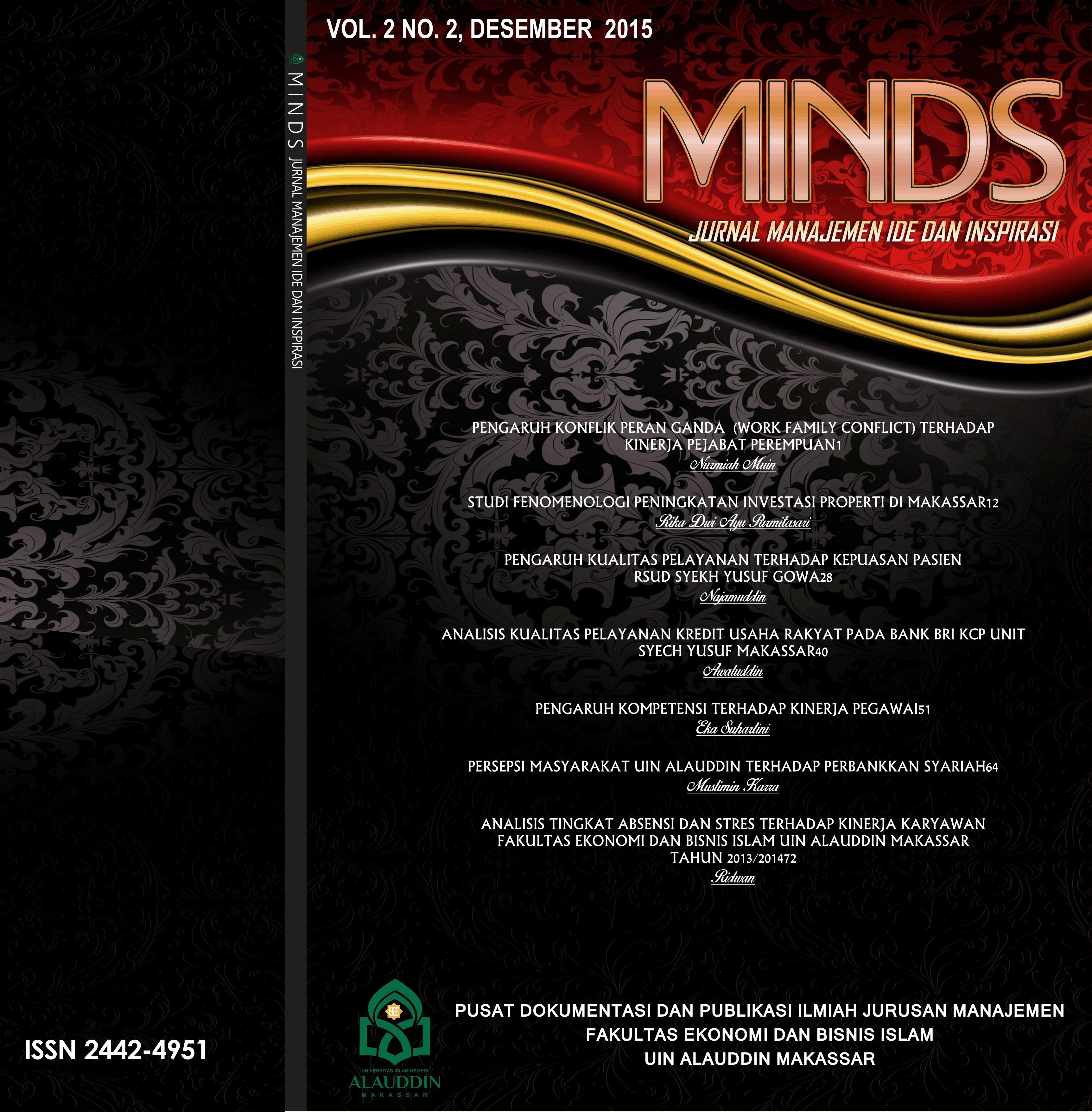 Jurnal Minds: Manajemen Ide dan Inspirasi adheres to the CC BY 2.0 license. You are free to: Share — copy and redistribute the material in any medium or format; Adapt — remix, transform, and build upon the material for any purpose, even commercially.
This license is acceptable for Free Cultural Works.
The licensor cannot revoke these freedoms as long as you follow the license terms.
Pengaruh Kompensasi dan Lingkungan Kerja Terhadap Kinerja Karyawan pada KSU. Amboina Mekar di Kota Ambon
Corresponding Author(s) : Deflin Tresye Nanulaitta
deflintrees@gmail.com
Jurnal Minds: Manajemen Ide dan Inspirasi, Vol. 5 No. 2 (2018): December Issue

Abstract
Tujuan penelitian ini adalah untuk mengetahui pengaruh kompensasi dan lingkungan kerja terhadap kinerja karyawan. Penelitian ini termasuk jenis penelitian deskriptif dengan pengujian hipotesis. Populasi dalam penelitian ini adalah seluruh karyawan KSU "AM" yang berjumlah 50 orang. Seluruh populasi diambil sebagai sampel sehingga disebut penelitian populasi dan tidak menggunakan teknik sampling. Teknik pengumpulan data menggunakan angket yang telah diuji cobakan terlebih dahulu dan diuji validitas serta uji reliabilitasnya. Teknik analisis data yang digunakan adalah analisis regresi berganda. Hasil analisis menunjukan kinerja karyawan dipengaruhi oleh kompensasi dan lingkungan kerja karyawan, baik secara parsial maupun simultan.  Untuk itu disarankan agar pihak manajemen KSU "AM"  senantiasa memberi perhatian pada kedua faktor tersebut dalam rangka meningkatkan kinerja karyawan maupun organisasi secara keseluruhan.
References
Dessler Gary. 1997. Manajemen Sumber Daya Manusia Edisi Bahasa Indonesia Jilid 2. Jakarta : Prenhallindo.
Flippo Edwin. B. 1997. Manajemen Personalia. Jakarta : Erlangga
Handoko Hani. 2002. Manajamen Personalia dan Sumber Daya Manusia Edisi 2. Yogyakarta : BPFE
Hasibuan Malayu.SP. 2002. Manajemen Sumber Daya Manusia , Edisi Revisi, Bumi Aksara
Indriyani Lies. 2009. Analisis Pengaruh Kompensasi dan Lingkungan Kerja Terhadap Produktifitas Kerja Perawat dengan Kepuasan Kerja sebagai Variabel Mediasi. Jurnal Ekonomi-Manajemen-Akuntansi,No 26, ThXVI,pp.117-127
Indriyo dan Sukanto. 2000. Manajemen Sumber Daya Manusia. Jakarta : Ghaila Indonesia
Mangkunegara.AP.2000. Manajemen Sumber Daya Manusia. Cetakan Pertama. Bandung : Rosdakarya
Marihot Tua Efendi. 2002. Manajemen Sumber Daya Manusia. Jakarta : Grasindo
Mathis and Jackson.2002. Manajemen Sumber Daya Manusia. Jakarta : Salemba Empat
Nawawi H. 2003. Manajemen Sumber Daya Manusia. Yogyakarta :Gajah Mada University,Press
Nitisemito Alex. 2002. Wawasan Sumber Daya Manusia. Jakarta : Pustaka Utama Grafiti
Panggabean Mutiara.S. 2002. Manajemen Sumber daya Manusia. Jakarta : Ghallia Indonesia
Rivai. 2005. Manajemen Sumber Daya Manusia Untuk Perusahaan dari Teori ke Praktek. Jakarta : PT Grafindo Persada
Robbins and Stephens. 2001. Organization Theory,Stucture, Design and Application, Alih Bahasa Yusuf Udara. Jakarta : Arean
Sedarmayanti. 2001. Sumber Daya Manusia dan Produktifitas Kerja. Bandung : Mandar Maju
Simamora Henry. 2004. Manajemen Sumber Daya Manusia. Yogyakarta : SIE YKPN
Sophia. 2008. Perilaku Organisasional. Yogyakarta : Andi Offset