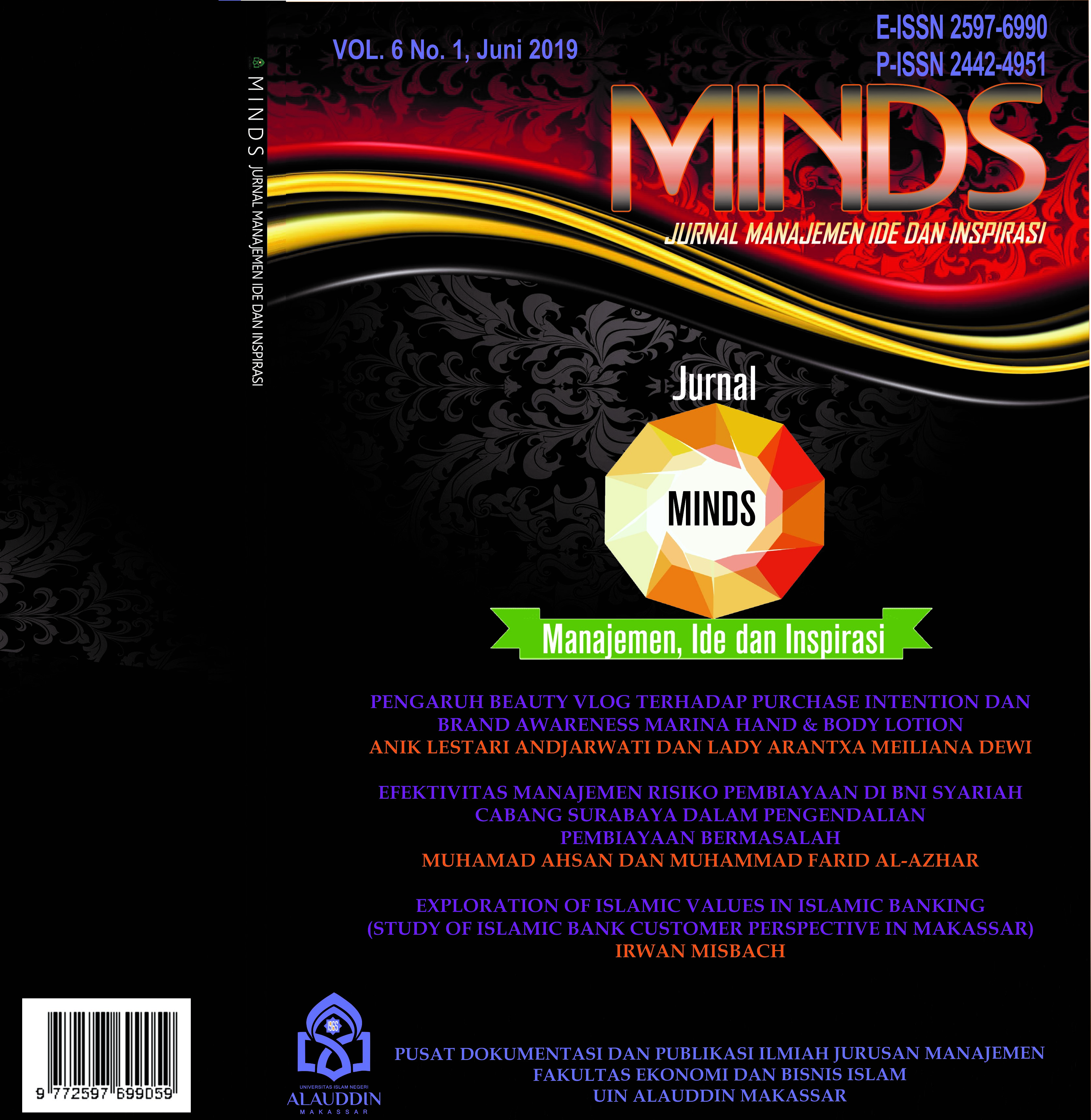 Pengaruh Pengetahuan Keuangan dan Sikap Keuangan terhadap Locus of Control dan Perilaku Pengelolaan Keuangan Mahasiswa Ekonomi
Corresponding Author(s) : Fitri Lukiastuti
fitri111269@stiebankbpdjateng.ac.id
Jurnal Minds: Manajemen Ide dan Inspirasi, Vol. 6 No. 1 (2019): June

Abstract
Penelitian ini bertujuan menganalisis faktor-faktor yang mempengaruhi perilaku pengelolaan keuangan pada 100 mahasiswa ekonomi perguruan tinggi swasta Kota Semarang. Data dianalisis menggunakan analisis jalur. Hasil penelitian menunjukkan bahwa pengetahuan keuangan dan sikap keuangan berpengaruh positif terhadap locus of control selanjutnya pengetahuan keuangan, sikap keuangan dan locus of control berpengaruh positif terhadap perilaku pengelolaan keuangan mahasiswa. Locus of control mampu memediasi pengaruh pengetahuan dan sikap keuangan terhadap perilaku pengelolaan keuangan mahasiswa. Proses perubahan cara pikir mahasiswa tentang pengendalian hidup terjadi dari dalam proses pemikiran mahasiswa itu sendiri.
Keywords
Financial Knowledge
Financial Attitude
Locus of Control
Financial Management Behavior
Pradiningtyas, T. E., & Lukiastuti, F. (2019). Pengaruh Pengetahuan Keuangan dan Sikap Keuangan terhadap Locus of Control dan Perilaku Pengelolaan Keuangan Mahasiswa Ekonomi. Jurnal Minds: Manajemen Ide Dan Inspirasi, 6(1), 96-112. https://doi.org/10.24252/minds.v6i1.9274
Download Citation
Endnote/Zotero/Mendeley (RIS)
BibTeX
References
Ajzen, I. 1991. Theory of Planned Behavior. Organizational Human Behavior and Human Decission Processes. 50, 179-211.
--------------------------. 2006. The theory of planned behavior. Tersedia di http://people.umass. edu/aizen/tpb.html.
Ajzen, I., & Fishbein, M., 1975, Belief, Attitude, Intention, and Behavior: An Introduction to Theory and Research, 129-385, Addison-Wesley, Reading, MA.
Dwiastanti, Anis. 2017. Analysis of financial knowledge and financial attitude on locus of control and financial management behavior. Management and Business Review Vol.1 No.1:1-8.
Elliehausen, Gregory, E. Christopher Lundquist, and Michael E. Staten, 2007. The Impact of Credit Counseling on Subsequent Borrower Behavior. Journal of Consumer Affairs, 41 (1), 1-28
Ersha, Amanah, Rahadian D., dan Iradianty A. 2016. Pengaruh Financial Knowledge, Financial Attitude dan External Locus Of Control Terhadap Personal Financial Management Behavior pada Mahasiswa S1 Universitas Telkom. e-Proceeding of Management : Vol.3, No.2 Agustus 2016 | Page 1228
Halim, Y.K.E. dan Astuti, D.. 2015. "Financial Stressors, FinancialBehavior, Risk Tolerance, FinancialSolvency, Financial Knowledge, dan Kepuasan Finansial". FINESTA. Vol 03,19-20.
Hilgert, Marianne A., Jeanne M. Hogarth dan Sondra Baverly. 2003. Household Financial Management: The Connection between Knowledge and Behavior. Federal Reserve Bulletin, 89(7):309-322
Humaira, Iklima dan Sagoro, Endra Murti. 2018. Pengaruh Pengetahuan Keuangan, Sikap Keuangan dan Kepribadian terhadap Perilaku Manajemen Keuangan pada Pelaku UMKM Sentra Kerajinan Batik Kabupaten Bantul. Jurnal Nominal Vol. 7 No. 1
Ida dan Dwinta. C.Y., 2010. Pengaruh locus of control, financial knowledge, income terhadap financial management behavior. Jurnal Bisnis dan Akuntansi Vo.12 No.3:131-144
Irine, Herdjiono dan L.A. Damanik. 2016. Pengaruh financial attitude, financial knowledge, parental income terhadap financial management behavior. Jurnal Managemen Teori dan Terapan Tahun 9 No. 3
Kholilah, N.A dan Irmani, Rr. May 2013. Studi Financial Management Behavior Pada Masyarakat Surabaya. Journal of Business and Banking Volume 3, No. 1, May 2013, pages 69 – 80.
Kreitner, Robert dan Kinicki, Angelo. 2005. Perilaku Organisasi, Buku 1 Edisi Kelima. Jakarta. Salemba Empat
Kurniawati, ID. dan Lestari, Wiwiek. 2017. Pengaruh Sikap Terhadap Uang Dan Pengetahuan Keuangan Dengan Mediasi Locus Of Control Terhadap Perilaku Pengelolaan Keuangan Keluarga.
Lutfi dan Iramani. 2008. Financial Literacy Among University Student and Its Implications to the Teaching Method. Makalah disajikan dalam Annual SEAAIR Conference STIE Perbanas, Surabaya, 4 Nopember.
Mien Nguyen Thi Ngoc dan Thao Thran Phuong.2015.Factor Affecting Personal Financial Management Behavior: Evidence from Vietnam. Proceedings of the Second Asia-Pasific Conference on Global Business, Economic Finance and Social Sciences (AP15Vietnam Conference)
Nur Riska, Agustina. 2018. Pengaruh financial knowledge dan financial attitude terhadap financial management behavior dimediasi oleh locus of control: Studi pada mahasiswa jurusan manajemen Fakultas Ekonomi Universitas Islam Negeri Maulana Malik Ibrahim Malang, Tesis, UIN-Malang.
Perry, Vanessa G., Marlene D Morris. (2005). Who is in Control? The Role of Self Perception, Knowledge, and Income in Explaining Consumer Financial Behavior. The Journal of Consumer Affairs, 39 (2), 299:313
Pritazahara, Ritma. & Sriwidodo, Untung. 2015. Pengaruh Pengetahuan Keuangan dan Pengalaman Keuangan Terhadap Perilaku Perencanaan Investasi Dengan Self Control Sebagai Variabel Moderating. Jurnal Ekonomi dan Kewirausahaan, Vol. 15 (No. 1), hal 28-37.
Puneet, B., Yajulu Medury. (2014). An Empirical Analysis of Intern Lingkages Between Financial Attitudes, Financial Behavior and Financial Knowledge of Salaried Individuals. Indian Jornal of Commerce & Management Studies, 5 (3), 58-64.
Rajna, A., Ezat, W.P.S., Junid, S.A., Moshiri, H. 2011. Financial Management Attitude and Practice among the Medical Practitioners in Public and Private Medical Service in Malaysia. International Journal of Business and Management Vol. 6, No. 8 Hal. 105-113. Retrieved from www.ccsenet.org/ijbm.
Ramdhani, N. 2008. Sikap dan Perilaku: Dinamika Psikologi Mengenai Perubahan Sikap dan Perilaku. Jurnal Psikologi Universitas Gadjahmada No.2 Vol. 39
Ricciardi Victor & Simon K. Helen. 2000. What is Behavioral Finance?. Business, Education and Technology Journal, hal. 1 - 9.
Robb,C.A., and Woodyard,A., 2011. Financial knowledge and best practice behavior. Journal of Financial Counseling and Planning.
Rotter, J., 1966. Generalized expectancies for internal versus external control of reinforcement. Psychological Monographs: General and Applied.
Rustiaria, Annora Paramitha. 2017. Pengaruh pengetahuan keuangan, sikap keuangan dan tingkat pendidikan terhadap perilaku pengelolaan keuangan. Artikel Ilmiah
Sina, Peter Garlans. 2014. Tipe Kepribadian Dalam Personal Financial. Jurnal JIBEKA Volume 8 No. 1: 54-59
Sugiyono. 2017. Metode penelitian pendidikan pendekatan kuantitatif, kualitatif dan R&D. Bandung. Alfabeta
Taneja, R. M. 2012. Money attitude- an abridgement. Journal of Arts, Science & Commerce. Vol.3 No.3 : 94-98.
Trianto. 2009. Mendesain Model Pembelajaran Inovatif-Progresif. Jakarta. Kencana Pernada Media Group.
Tung, Lo Choi. 2011. The Impact of Entrepreneurship Education on Entrepreneurial Intention of Engineering Students. City University of Hongkong : Run Run Shaw Library.
Vroom, Victor. 2014. Expectancy Theory of Motivation. International Research Journal of Business and Management No.7 Vol 9: 1-8.
Wahana, Arwansa. 2014. Analisis faktor-faktor yang mempengaruhi mahasiswa dalam menabung. Jurnal Undip No.2 Vol. 30
Wahyono, Budi. 2014. Teori Perilaku Yang Direncanakan (Theory of Planned Behavior). Artikel pada http://www.pendidikanekonomi.com/2014/08/teori-perilaku-yang-direncanakan-theory.html. Diambil pada 10 November 2018.
Zhou Jian, Khoa Cuong Phan. 2014. Factors Influencing Individual Investor Behavior : An Empirical Study of the Vietnamese Stock Market. American Journal of Business and Management Vol. 3, No. 2, 2014, 77- 94.