ASPEK PERILAKU MANUSIA SEBAGAI MAKHLUK INDIVIDU DAN SOSIAL PADA RUANG TERBUKA PUBLIK
Abstract
Abstrak_Ruang terbuka publik merupakan elemen kota yang sangat penting kehadirannya dalam kehidupan kota. Sebagai ruang terbuka yang bersifat publik maka berbagai aktivitas dapat dilakukan manusia baik perorangan maupun berkelompok. Karakteristik manusia sebagai makhluk individu sekaligus makhluk sosial menjadi hal yang menarik untuk diteliti bagaimana manusia mempertahankan sifat keprivasian mereka dalam ruang terbuka publik yang dapat diakses siapa saja. Oleh karena itu tujuan dari penelitian ini untuk melihat gambaran bagaimana manusia mengaktualisasikan karakternya sebagai makhluk individu dalam suatu ruang sosial di ruang terbuka publiksehingga manfaat dari penelitian ini diharapkan bisa digunakan para perancang ruang kota dalam memperhatikan kebutuhan karakter manusia sebagai pengguna ruang tersebut. Metode penelitian yang digunakan adalah metode kualitatif dengan melakukan pendekatan kajian literatur yaitu menggunakan beberapa teori dan artikel penelitian yang sesuai yang telah dilakukan.Berdasarkan kajian literatur yang dilakukan ditemukan bahwa karakter manusia sebagai makhluk individu dan makhluk sosial dalam ruang terbuka publikterdapat 2 bentukan ruang yaitu ruang pribadi (personal space) yaitu ruang maya yang berada di sekeliling tubuh masing-masing individu dan teritori (territory) yang dibentuk sesuai dengan kondisi tertentunamunmasih dapat diusik oleh individu lain sehingga pertahanan manusia ini sifatnya tidak masif. Teritori juga dipengaruhi oleh 2 faktor yaitu ekonomi dan budaya.
Kata kunci: Arsitektur Perilaku; Ruang Publik, Ruang Terbuka Publik.
Abstrak_Public open space is an element of the city that is very important of  its presence in city life. As a public open space, various activities can be carried out by humans, both individuals and groups. The characteristics of humans as individual and also social being; becoming interesting things to be investigated that how humans maintain their privacy in public open spaces that can be accessed by anyone. Therefore the purpose of this study is to gain the description of how humans actualize their characters as individual beings in a social space in public open space so that the benefits of this research are expected to be able to be used by urban space designers in concerning to the human character needs as the space user. The research method used was a qualitative method by conducting a literature study approach, which used several theories and research articles that were appropriate. Based on the literature review, it was found that human characters as individual and social being in public open spaces had 2 spatial forms, namely personal space which was the virtual space available around the body of each individual and territory formed according with certain conditions but can still be disturbed by other individuals so that the human defense is not massive. Territory is also influenced by two factors, namely economy and culture.
Keywords: Behavior Architecture; Urban Space; Public Open Space; Personal Space; Territory.
Downloads
Download data is not yet available.
References
Al-Bishawi, M., Ghadban, S., & Jørgensen, K. (2015). Women's Behaviour In Public Spaces And The Influence Of Privacy As A Cultural Value: The Case Of Nablus, Palestine. Urban Studies, 54(7), 1559–1577. https://doi.org/10.1177/0042098015620519
Hadi, S. (1991). Analisis Butir Untuk Instrumen (1st ed.). Yogyakarta: Andi Offset.
Hakim, R., & Utomo, H. (2003). Komponen Perancangan Arsitektur Lansekap: Prinsip-Unsur dan Aplikasi Desain. Jakarta: Penerbit Bumi Aksara.
Halim, D. (2005). Psikologi Arsitektur Pengantar Kajian Lintas Disiplin. Jakarta: Grasindo.
Hantono, D. (2013). Pengaruh Ruang Terbuka Terhadap Kinerja Pegawai. Nalars, 12(2), 1–12. https://doi.org/10.24853/nalars.12.2.%25p
Haryadi, & Setiawan, B. (2014). Arsitektur, Lingkungan dan Prilaku: Pengantar ke Teori, Metodologi dan Aplikasi (2nd ed.). Yogyakarta: Gadjah Mada University Press.
Kurniadi, F., Pramitasari, D., & Wijono, D. (2012). Konsep Perilaku Teritorialitas di Kawasan Pasar Sudirman Pontianak. Vokasi, 8(3), 197–208. Retrieved from http://riset.polnep.ac.id/bo/upload/penelitian/penerbitan_jurnal/08-Fery ganti6.pdf
Laurens, J. M. (2004). Arsitektur dan Perilaku Manusia. (Diane Novita, Ed.). Jakarta: PT. Grasindo.
Leng, H., & Li, T. (2016). Research on Public Open Space of Rural Areas in Severe Cold Regions Based on Survey of Residents on the Behavioral Activity. In Procedia Engineering (pp. 327–334). Elsevier. https://doi.org/10.1016/j.proeng.2016.06.400
Peters, K. (2010). Being Together in Urban Parks: Connecting Public Space, Leisure, and Diversity. Leisure Sciences, 32(5), 418–433. https://doi.org/10.1080/01490400.2010.510987
Purwantiasning, A. W. (2017). Optimalisasi Fungsi Ruang Terbuka Hijau Dengan Melihat Pola Sebaran Pengunjung Studi Kasus: Taman Tabebuya, Jagakarsa. Nature, 4(2), 121–127. https://doi.org/10.24252/nature.v4i2a4
Sarwono, S. W. (1995). Psikologi Lingkungan. Jakarta: PT. Grasindo.
Snyder, J. C., & Catanese, A. J. (1984). Pengantar Arsitektur. (Hendro Sangkayo, Ed.). Jakarta: Penerbit Erlangga.
Sudarisman, I. (2017). Kajian Pedagang Kaki Lima Di Taman Tegalega, Bandung, Jawa Barat. Arsir , 1(2), 161–174. Retrieved from http://jurnal.um-palembang.ac.id/arsir/article/view/867/769
, https://winnerfirmansyah.wordpress.com/2010/04/11/privasi-dan-teritorial-manusia/,akses Septem-ber 2018.
, http://atemalem.com/gaya-baru-malam-selatan/; Diakses pada Februari 2018.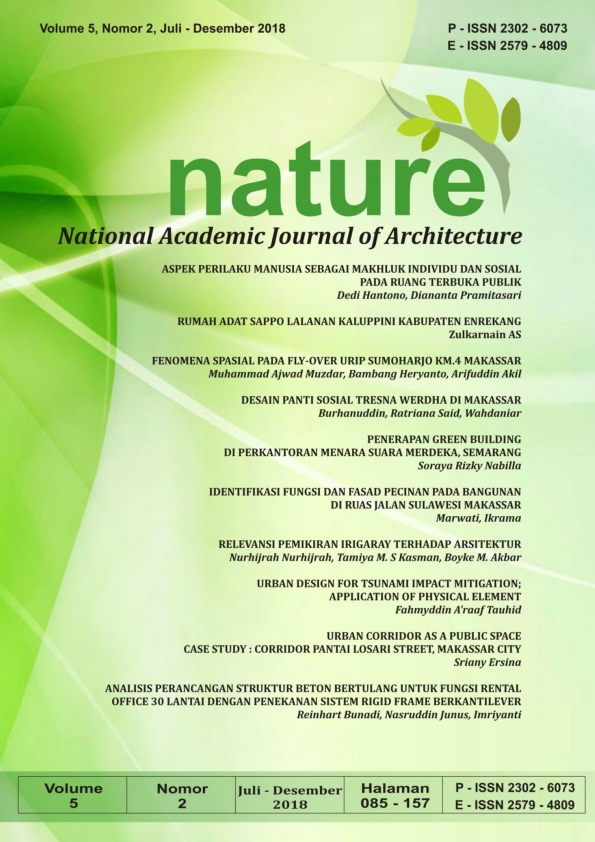 How to Cite

Hantono, D., & Pramitasari, D. (2018). ASPEK PERILAKU MANUSIA SEBAGAI MAKHLUK INDIVIDU DAN SOSIAL PADA RUANG TERBUKA PUBLIK. Nature: National Academic Journal of Architecture, 5(2), 85-93. https://doi.org/10.24252/nature.v5i2a1

Section

ARTICLE VOL 5 NO 2, DECEMBER 2018

Abstract viewed = 29099 times