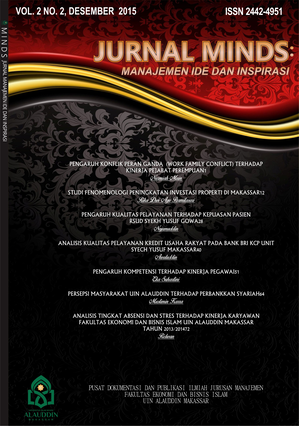 This work is licensed under a Creative Commons Attribution 4.0 International License.
Jurnal Minds: Manajemen Ide dan Inspirasi adheres to the CC BY 2.0 license. You are free to: Share — copy and redistribute the material in any medium or format; Adapt — remix, transform, and build upon the material for any purpose, even commercially.
This license is acceptable for Free Cultural Works.
The licensor cannot revoke these freedoms as long as you follow the license terms.
Company's Performance as Measured by the Application of Big Data Analysis Capabilities for Customers
Corresponding Author(s) : Ramlawati Ramlawati
ramlawati.ramlawati@umi.ac.id
Jurnal Minds: Manajemen Ide dan Inspirasi, Vol. 9 No. 1 (2022): June Issue

Abstract
Based on an earlier study related to quality and Big Data Analytics, this research seeks to discover the ideas of Technology Utilization, Quality Information, and Talent Quality in affecting Company Performance. The purposive sample consisted of 150 customers from around Indonesia who fulfilled the criteria. SEM-PLS techniques are used to examine preliminary data. Results, the Quality of Information, and talent substantially impact company performance. However, Big Data Analytics does not affect Technology Utilization. These studies may help the company develop its Consumer Big Data analytical skills. Practically, the findings are anticipated to improve the company's performance to satisfy the demands and desires of customers.
Keywords
Big Data
Technology Quality
Information Quality
Talent Quality
Company Performance
References
Ahmad, E. F., & Aliyudin, R. S. (2020). Pengaruh Implementasi Big Data Terhadap Auditdi Lembaga Pemerintah (Studi Pada Kantor Inspektorat Kabupaten Majalengka). Syntax Literate ; Jurnal Ilmiah Indonesia, 5(5), 68. https://doi.org/10.36418/syntax-literate.v5i5.1141
Ali, I. (2016). Big Data : Apa dan pengaruhnya pada perpustakaan ? (What is Big Data and its In fluence to Library). Media Pustakawan, 22(4), 19–23.
Anugrah, I. M. A., Teddy, B., Ekonomi, F., Pendidikan, U., & Undiknas, N. (2018). PENGARUH BISNIS E-COMMERCE DAN SISTEM INFORMASI AKUNTANSI BERBASIS TEKNOLOGI TERHADAP KEBUTUHAN JASA AUDIT E-COMMERCE. 3(2), 197–208.
Armstrong, & Kotler. (1996). Dasar-Dasar Pemasaran. Intermedia.
Azlan, M., Herwanti, T., & Pituringsih, E. (2015). Pengaruh Kualitas Sumber Daya Manusia, Pemanfaatan Teknologi Informasi, Pengendalian Intern Kkuntansi, dan Pengawasan Keuangan Daerah terhadap Keandalan Laporan Keuangan Daerah pada SKPD Pemerintah Kabupaten Lombok Timur. Jurnal Akuntansi Aktual, 3, 188–198.
Bach, M. P., Čeljo, A., & Zoroja, J. (2016). Technology acceptance model for business intelligence systems: Preliminary research. Procedia Computer Science, 100, 995–1001.
Bentler, P. M., & Chou, C.-P. (1987). Practical issues in structural modeling. Sociological Methods & Research, 16(1), 78–117.
Collings, D. G., & Mellahi, K. (2009). Strategic talent management: A review and research agenda. Human Resource Management Review, 19(4), 304–313.
De-Jun, S. (2009). Constructing New Model of Management Information System Under E-Commerce Environment (ECMIS). 2009 International Conference on E-Business and Information System Security.
DeLone, W. H., & McLean, E. R. (2003). The DeLone and McLean model of information systems success: a ten-year update. Journal of Management Information Systems, 19(4), 9–30.
Farida, U. (2018). Pengelolaan big data pada perpustakaan : tantangan bagi pustakawan di era perpustakaan digital. Journal Net. Library and Information, 1(1), 19–29.
Ferdinand, A. (2002). Structural equation modeling in management research. Fakultas Ekonomi UNDIP: Semarang.
Hanadia, N., Rahayu, S., & Zultilisna, D. (2017). Pengaruh Kualitas Sistem, Perceived Usefulness, Dan Kualitas Informasi Terhadap Kepuasan Pengguna (studi Kasus Terhadap Sistem Dashboard Pdam Tirta Raharja Pada Tahun 2017). EProceedings of Management, 4(3).
Hoogland, J. J., & Boomsma, A. (1998). Robustness studies in covariance structure modeling: An overview and a meta-analysis. Sociological Methods & Research, 26(3), 329–367.
Khan, A. G. (2016). Electronic commerce: A study on benefits and challenges in an emerging economy. Global Journal of Management and Business Research, 16(1).
Kusnandar, V. B., & Mutia, A. (2021, October 14). Pengguna Internet Indonesia Peringkat ke-3 Terbanyak di Asia | Databoks. https://databoks.katadata.co.id/datapublish/2021/10/14/pengguna-internet-indonesia-peringkat-ke-3-terbanyak-di-asia
Lestari, N. K. L., & Supadmi, N. L. (2017). INFORMASI PADA KECURANGAN AKUNTANSI Fakultas Ekonomi dan Bisnis Universitas Udayana ( Unud ), Bali , Indonesia Fakultas Ekonomi dan Bisnis Universitas Udayana ( Unud ), Bali , Indonesia ABSTRAK PENDAHULUAN Pemerintahan yang baik ( good governance ) merupa. 21, 389–417.
Madura, J. (2004). Introduction to business 3e. Thomson.
Marakas, G. M., & O'Brien, J. A. (2017). Pengantar Sistem Informasi.
Medianto. (2016). Sistem informasi, keuangan, auditing dan perpajakan. Jabe (Journal of Accounting and Business Education), 1(1), 22–28.
Murdifin, I., Nasir, M., Ashoer, M., & Syahnur, M. H. (2021). Determination of Internet Banking Customer Satisfaction-Study at SOE Bank in Indonesia. Jurnal Minds: Manajemen Ide Dan Inspirasi, 8(1), 127–140.
Mustikarani, T. D., & Irwansyah, I. (2019). Pemanfaatan Teknologi Informasi dan Komunikasi dalam Industri Fashion Indonesia. Warta Ikatan Sarjana Komunikasi Indonesia, 2(01), 8–18.
Nauap, N. F., Ulfah, Y., & Setiawaty, A. (2017). Pengaruh pemanfaatan teknologi informasi dan pengendalian intern terhadap kinerja instansi. Jurnal Ilmu Akuntansi Mulawarman (JIAM), 1(1), 25–33.
Nurhayati, E., Sultan, U., Tirtayasa, A., Arifin, B., Sultan, U., Tirtayasa, A., Mulyasari, W., Sultan, U., & Tirtayasa, A. (2019). PENGARUH INTELLECTUAL CAPITAL TERHADAP KINERJA KEUANGAN DI INDUSTRI PERBANKAN YANG TERDAFTAR DI BURSA EFEK INDONESIA DENGAN COMPETITIVE ADVANTAGE SEBAGAI. 14(1), 1–24.
Palinggi, S., & Limbongan, E. C. (2020). PENGARUH INTERNET TERHADAP INDUSTRI E- COMMERCE DAN REGULASI PERLINDUNGAN DATA PRIBADI PELANGGAN DI INDONESIA. 225–232.
Shita, R. T., Triyono, G., Informasi, F. T., Luhur, U. B., Utara, P., & Lama, K. (2011). Analisa dan rancangan sistem informasi antrian menggunakan biskitz cms. 8(1), 27–33.
Sutandi, S. (2018). Pengaruh Big Data Dan Teknologi Blockchain Terhadap Model Bisnis Sektor Logistik Dengan Pendekatan Business Model Canvas. Jurnal Logistik Indonesia, 2(1), 9–20. https://doi.org/10.31334/jli.v2i1.214
Thompson, R. L., Higgins, C. A., & Howell, J. M. (1991). Personal computing: Toward a conceptual model of utilization. MIS Quarterly, 125–143.
Toba, H. (2016). Big Data : Menuju Evolusi Era Informasi Big Data : Menuju Evolusi Era Informasi Selanjutnya. SeTISI, April 2015.
Truss, C., Soane, E., Edwards, C., Wisdom, K., Croll, A., & Burnett, J. (2007). Working life: Employee attitudes and engagement 2006. Chartered Inst. of Personnel and Development.
Widiana, M. E. (2010). Penggunaan Teknologi Internet dalam Sistem Penjualan Online untuk Meningkatkan Kepuasan dan Pembelian Berulang Produk Batik pada Usaha Kecil dan Menengah di Jawa Timur. 71–81.
Yudianta, I. G. A., & Erawati, N. M. A. (2018). PENGARUH SUMBER DAYA MANUSIA, TEKNOLOGI INFORMASI DAN PENGENDALIAN INTERN TERHADAP KUALITAS LAPORAN KEUANGAN. Fakultas Ekonomi Universitas Udayana.
Yuliana, O. Y. (2000). PENGGUNAAN TEKNOLOGI INTERNET. 2(1), 36–52.