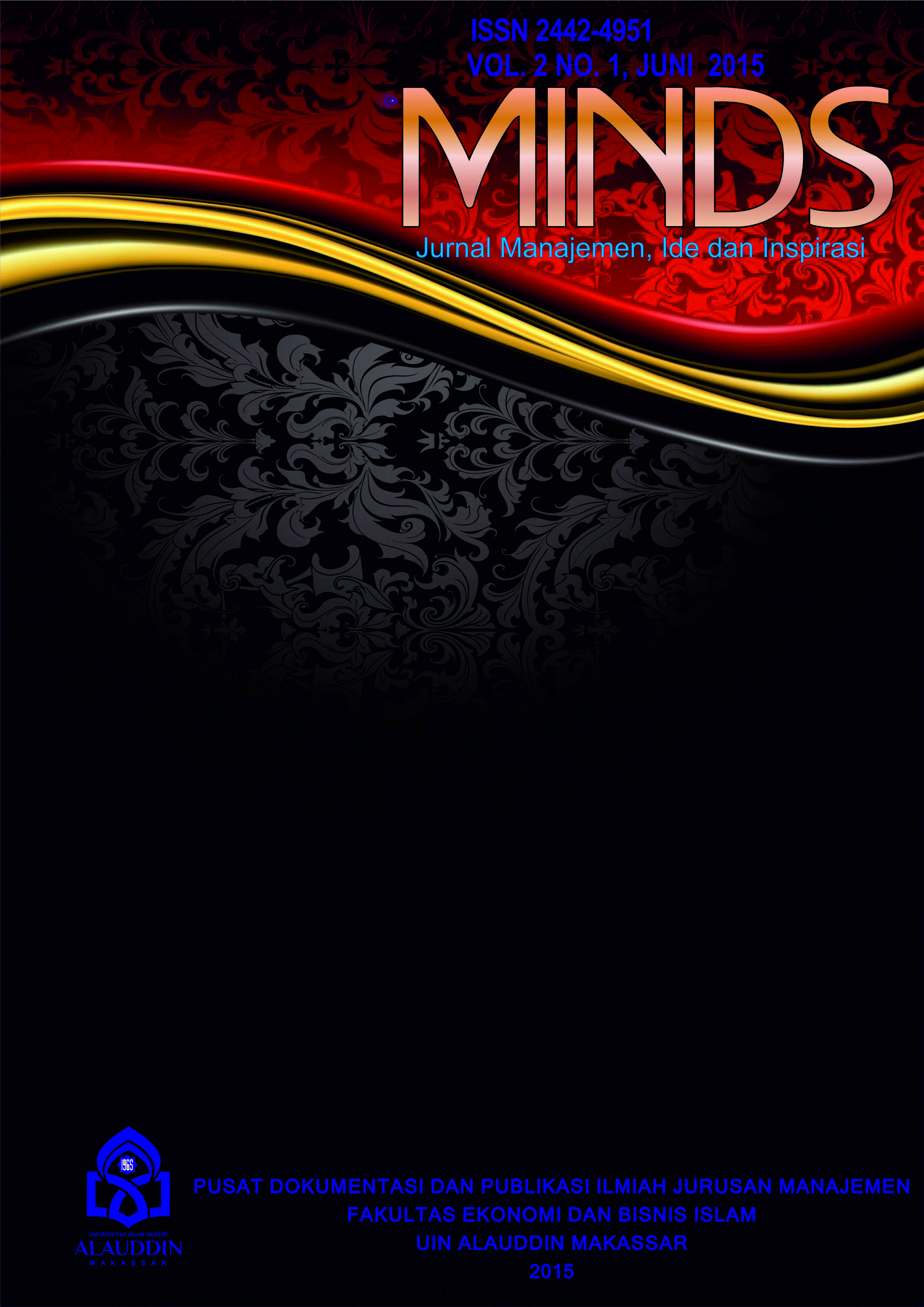 Jurnal Minds: Manajemen Ide dan Inspirasi adheres to the CC BY 2.0 license. You are free to: Share — copy and redistribute the material in any medium or format; Adapt — remix, transform, and build upon the material for any purpose, even commercially.
This license is acceptable for Free Cultural Works.
The licensor cannot revoke these freedoms as long as you follow the license terms.
Pengaruh Budaya, Sosial, Pribadi Dan Psikologis Terhadap Keputusan Pembelian Konsumen Ekowisata
Corresponding Author(s) : Andi Faisal Bahari
faisal.bahari@umi.ac.id
Jurnal Minds: Manajemen Ide dan Inspirasi, Vol. 5 No. 1 (2018): June Issue

Abstract
This study aims to analyze the effect of cultural, social, personal, and psychological on consumer decision in visiting the Malino Highland, Gowa. The population were the visitors of Malino Highland, and sampling technique used purposive sampling, which are the people who visited Malino Highland. A questionnaire was deployed to collect the primary data. The number of respondents that meet the sampling criterion was determined by 150 visitors. The data was measured by multiple regression analysis with the assistant of SPSS software. The results shows that the cultural, social, personal, and psychologal affect simultaneously and partially towards the visitors decision to visit the Malino Highland, Gowa. Psychological variable is the most dominant effect with the value of 0.330. This founding is important for marketing strategy ecotourism to maximizing the value creation to the consumers.
References
A. Cohen, Girish Prayag & Miguel Moital. 2014. Consumer behaviour in tourism: Concepts, influences and opportunities, Current Issues in Tourism, 17:10, 872-909, DOI: 10.1080/13683500.2013.850064
Adhi, Imam Ahmad, Maria Goretti Wi Endang NP, and Pravissi Shanti. "Pengaruh Faktor Psikologis terhadap Keputusan Berkunjung (Survei Pada Pengunjung Batu Secret Zoo Jawa Timur Park 2)." Jurnal Administrasi Bisnis 30.1 (2016): 35-43.
Arida, N. K. 2009. Meretas Jalan Ekowisata Bali Proses Pengembangan, Partisipasi Lokal dan Tantangan Ekowisata di Tiga Desa Kuno Bali. Denpasar: Udayana University Press.
Arikunto, Suharsimi., 2010, Prosedur Penelitian Suatu Pendekatan Praktik, Ed. rev, Rineka Cipta, Jakarta.
Arsy, Rakhmat Mokhtar An., 2012, Pengaruh Faktor Budaya, Soaial, Pribadi dan Psikologis Konsumen terhadap Keputusan Pembelian Motor Matic Yamaha. (Study kasus pada PT. Tunas Kencana Data Bekasi).
Ashur, Muhammad. (2016). Pengaruh Dukungan Sosial, Persepsi Risiko Dan Interaksi Sosialterhadap Kepercayaan Dan Niat Pembelian Konsumen Pada Media S-commerce (Studi Pada Konsumen S-commerce Di Indonesia). Jurnal Bisnis dan Manajemen, 3(1).
Correia, A. dan G. I. Crouch. 2008. A Study of Decision Processes. Andi. Yogyakarta.
Diamantis, D. 2004. Ecotourism: Management and Assesment. London: Thomson Learning.
Ghozali, Imam., 2011, Aplikasi Analisis Multivariate dengan Program IBM SPSS 19, Badan Penerbit Universitas Diponegoro, Semarang.
http://makassar.tribunnews.com/2018/01/31/234706-wisatawan-kunjungi-objek-wisata-di-gowa-selama-2017 (Diakses 18 Mei 2018)
Kotler, Philip., dan Gary Armstrong., 2012, Principles of Marketing, 14th Ed, Prentice Hall, Jakarta.
Magdalena, Pipit Amelia., 2012, Pengaruh Budaya, Sosial, Pribadi dan Psikologis Terhadap Proses Keputusan Pembelian Susu Formula Anak (Balita) di Kota Malang, Skripsi Fakultas Ekonomi dan Bisnis Universitas Brawijaya, Malang, Jurnal Skripsi FEB UB.
Mondal, S. 2015. Tourists SPOT Buying Behavior: An Analytical Study. Journal of Tourism & Hospitality, 2015.
Morrison, A. 2008. Hospitality and Travel Marketing. Edisi Kelima. Ahli Bahasa Sulistiyani. Salemba Empat. Jakarta.
Oetarjo, Mas. "Pengaruh Prilaku Konsumen Terhadap Minat Berkunjung ke Wisata Bahari Lamongan." Fakultas Ekonomi Universitas Muhammadiyah Sidoarjo (2013).
Okkysantria, Dyca., 2014, Analisis Pengaruh Kebudayaan, Sosial, Pribadi Dan Psikologis Konsumen Usia Muda Terhadap Keputusan Pembelian Makanan Cepat Saji Mcdonald's (Studi Pada Konsumen Mcdonald's Watugong Malang), Jurnal Skripsi FEB UB.
Omondi, S. 2017. Determinants of Consumer Buying Behaviour for The Domestic Tourists in Kenya. Tesis United States International University Africa. Diakses 20 Maret 2018.
Rahman, Muh. Akil. (2016). Pengaruh Penggunaan Media Sosial Terhadap Keputusan Pembelian Lewat Internet di Kalangan Mahasiswa. In Assets (Vol. 6, No. 1, pp. 103-115).
Rahman, Muh. Akil., & Taning, M. (2015). Pengaruh Customer Relationship terhadap Loyalitas Pelanggan pada PT. BANK Mandiri (Persero) Tbk Cabang Cokroaminoto Makassar. Jurnal Manajemen Ide dan Inspirasi, 2(2), 50-67.
Sekaran, U. and Bougie, R. 2013. Research Methods for Business A Skill-Building Approach. 6th Edition, Wiley, New York.
Urfana, Millatina., dan Sembiring, Beby Karina Fawzeea., 2012, Analisis Pengaruh Faktor Kebudayaan, Sosial, Pribadi, Dan Psikologis Terhadap Keputusan Pembelian Makanan Cepat Saji Pada Konsumen Kentucky Fried Chicken (KFC) Walikota Medan.