NANAEKE: Indonesian Journal of Early Childhood Education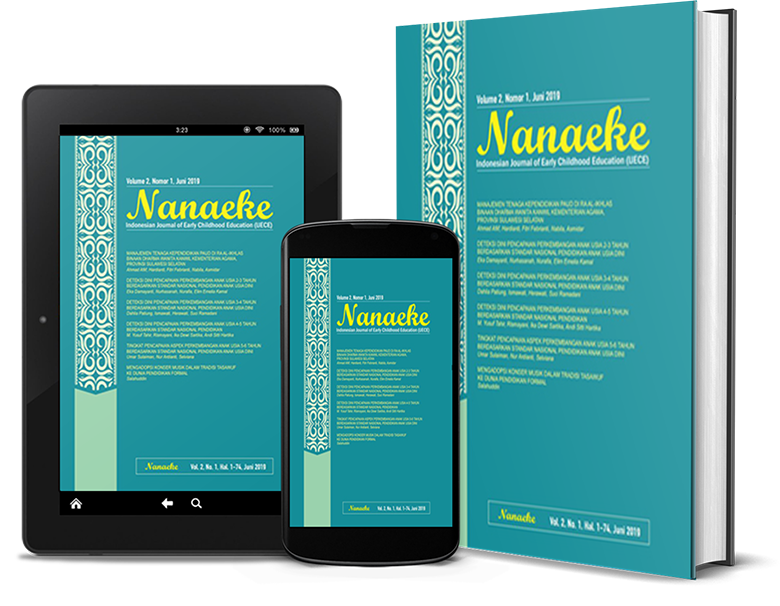 Nanaeke: Indonesian Journal of Early Childhood Education (NIJCE) is a peer-reviewed journal that mediates the dissemination of researchers in education, especially from Islamic studies, development of teaching and learning theories, and contemporary issues in early childhood education. The journal is published by Islamic Early Childhood Education Program Faculty of Tarbiyah and Teacher Training Universitas Islam Negeri Alauddin Makassar in collaboration with Association of Indonesian Islamic Kindergarten Teachers Education Program. 
The editorial goal is to provide a forum exchange and an interface between researchers and practitioners in an education-related field.
We accept submission from all over the world. All submitted articles shall never be published elsewhere, original and not under consideration for other publication.
Current Issue
Vol. 5 No. 2 (2022): Juli-Desember
https://doi.org/10.24252/nananeke.v5i2.32955

Views: 85 / PDF Downloads: 59

https://doi.org/10.24252/nananeke.v5i2.34722

Views: 58 / PDF Downloads: 47
View All Issues