Journal Title         : Al Risalah: Jurnal Ilmu Syariah dan Hukum 
Frequency           : 2 Issues per Year (May & November)
AL RISALAH JOURNAL. Welcome to the official website of the Al Risalah Journal which is a reference source for academics and practitioners in the field of law. Al Risalah Journal is a peer-reviewed journal that publishes scientific articles from the scientific disciplines of Islamic Law and Law in general. Published articles include the results of original scientific research and studies of legal interactions.
Al Risalah Journal is published by the Faculty of Sharia and Law, Alauddin State Islamic University, Makassar. Al Risalah Journal accepts manuscripts or articles in the field of Islamic Law and Law from various academics and researchers, both national and international. The articles published in the journal al treatise are articles that have been reviewed by Bestari Partners or peer-reviewers.
The decision of whether or not a scientific article is accepted in this journal is the right of the Editorial Board based on the recommendation of Bestari Partners. Al Risalah journal is published twice a year (Mei and November). Article submissions must follow the Guidelines for Writing Guidelines.
ISSN: 2252-8334 / e-ISSN: 2550-0309
Publisher: Fakultas Syariah dan Hukum Universitas Islam Negeri Alauddin Makassar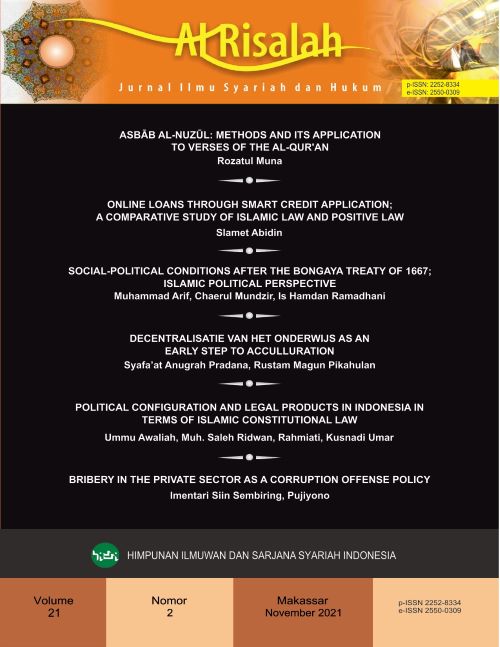 Announcements
CALL FOR PAPERS 2021

As an open access and peer-reviewed journal that aims to offer an academic platform for legal research within the scope of Islamic law and law in general. Therefore, the editors are proud to announce the Call for Papers for the next issue to be published in the 2021 edition (May and November). Papers submitted must meet the scope and comply with the new journal (journal policy). All papers will be peer reviewed according to typical journal standards. All papers suitable for publication after the review process will be accepted for publication.

Submit your paper here.

Posted: 2021-05-01
VOLUME 21 NO 2, NOVEMBER (2021)
Table of Contents
Rozatul Muna, M. Fakhrul Mahdi

Abstract - 5

76-85
Slamet Abidin

Abstract - 4

86-98
Muhammad Arif, Chaerul Mundzir, Is Hamdan Ramadhani

Abstract - 4

99-108
Syafa'at Anugrah Pradana, Rustam Magun Pikahulan

Abstract - 5

109-116
Ummu Awaliah, Muhammad Saleh Ridwan, Rahmiati Rahmiati, Kusnadi Umar

Abstract - 7

117-125
Imentari Siin Sembiring, Pujiyono Pujiyono

Abstract - 16

126-138