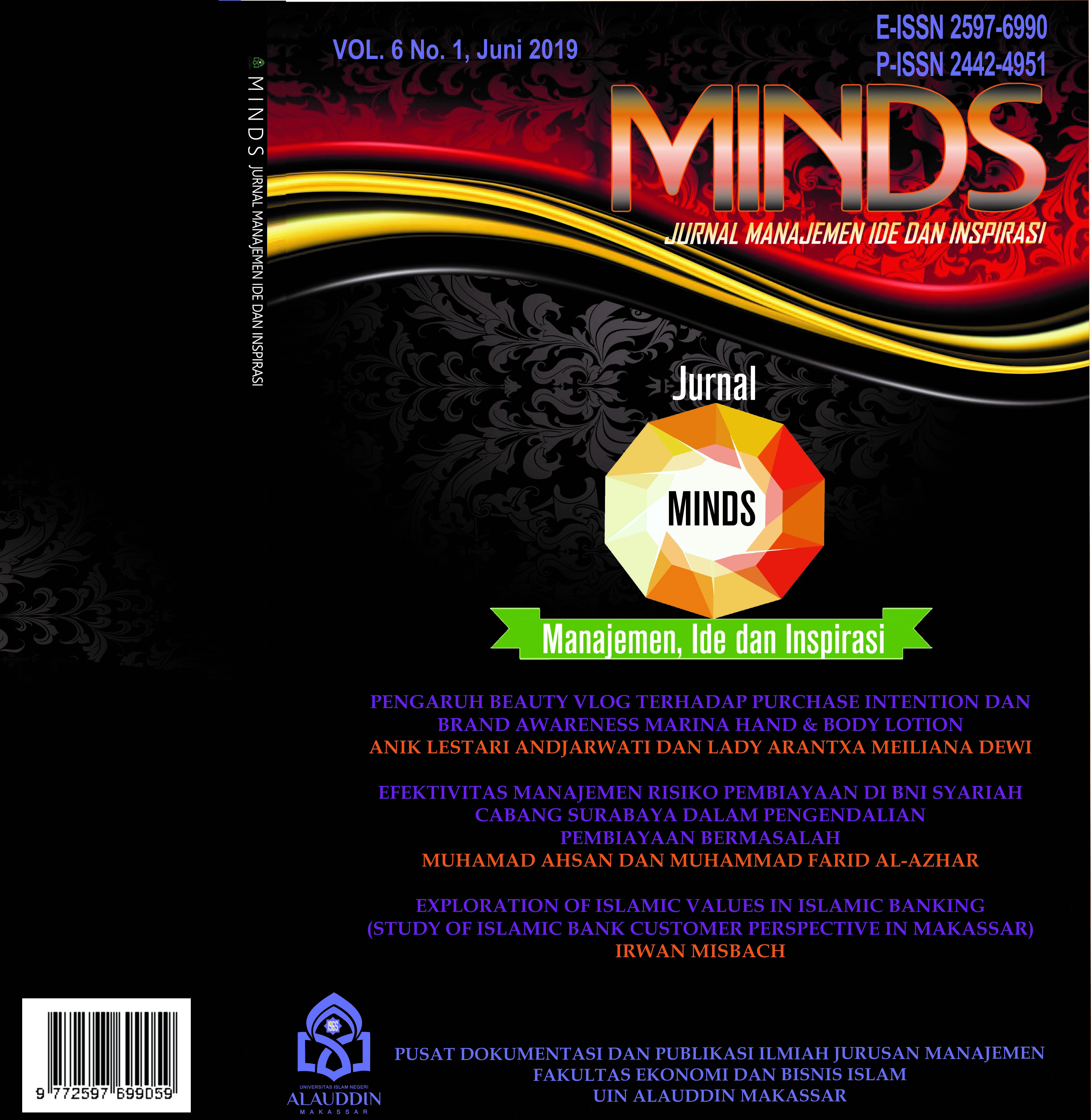 User Mobile Payment Behavior Using Technology Acceptance Model (TAM): Study of "Dana" E-Wallet Users
Corresponding Author(s) : Safroni Isrososiawan
safroniisrososiawan@upi.edu
Jurnal Minds: Manajemen Ide dan Inspirasi, Vol. 6 No. 2 (2019): December

Abstract
This study aims to determine the effect perceived usefulness on Mobile Payment and perceived ease of use. This research uses a quantitative approach with a questionnaire data collection tool. Population of this study is the graduate students of the Universitas Pendidikan Indonesia with a total sample of 100 students, a quota sampling method applied. Hypotheses of "DANA" application analyzed by using multiple regression analysis. The findings in this study indicate that perceived easefulness and perceived ease of use had a positive and significant effect on mobile payment.
Keywords
Mobile Payment
, E-Wallet
DANA
Technology Acceptance Model
Isrososiawan, S., Hurriyati, R., & Dirgantari, P. D. (2019). User Mobile Payment Behavior Using Technology Acceptance Model (TAM): Study of "Dana" E-Wallet Users. Jurnal Minds: Manajemen Ide Dan Inspirasi, 6(2), 181-192. https://doi.org/10.24252/minds.v6i2.11274
Download Citation
Endnote/Zotero/Mendeley (RIS)
BibTeX
References
Ariyanti, F. (2018, June 15). Mengenal DANA, Dompet Digital dengan Tingkat Keamanan Sekelas Perbankan. Retrieved November 29, 2019, from https://www.liputan6.com/bisnis/read/3559895/mengenal-dana-dompet-digital-dengan-tingkat-keamanan-sekelas-perbankan.
A . Seetharaman, K. N. 2017. Factors Influencing Behavioural Intention to Use the. Journal of Applied Economics and Business Research, 116-136.
Alaeddin O., R. A. 2018. From Physical To Digital: Investigating Consumer Behaviour Of Switching To Mobile Wallet. Polish Journal Of Management Studies, Vol.17 No.2 p.18-30.
Anthony and Wong. T. T. 2018. A Study of Consumer Acceptance of Mobile. Journal of Economics, Management and Trade, 1-14.
Gokhan Aydin. G. and Burnaz.S., 2016. Adoption of mobile payment systems: a study on mobile wallets. Journal of Business, Economics and Finance -JBEF, Vol.5 p.73-92.
Amelia, E. 2019. Analisis Perilaku Minat Menggunakan Mobile Payment Dengan Pendekatan Technology Acceptance Model 3 (Studi pada Pengguna Aplikasi Pembayaran OVO), Tesis, Bandung: Sekolah Pascasarjana Universitas Pendidikan Indonesia.
Anthony and Wong. T. T. 2018. A Study of Consumer Acceptance of Mobile. Journal of Economics, Management and Trade, 1-14.
Assocham India and RNCOS 2016, M-Wallet: Scenario Post Demonetisation, Assocham India, Delhi.
Babbie, E. R. 2010. The Practice of Social Research. 12th ed. Belmont. CA: Wadsworth Cengage.
Chen, L., & Nath, R. 2008, "Determinants of mobile payments: an empirical analysis", Journal of International Technology and Information, Vol.17, no.1, pp. 9 – 20.
Davis, F.D., 1989. Perceived usefulness, perceived ease of use, and user acceptance of information technology. MIS Quarterly, 13, pp.319–340.
Ghozali, I. 2012. Aplikasi Analisis Multivariate dengan Program IBM SPSS. Yogyakarta: Universitas Diponegoro
Gokilavani. R, Kumar, D.Venkatesh, Durgarani. M, Mahalakshmi. R. 2018. Can India Move Towards Digital Soverign Currency? A Study on Perception of Consumers Towards Digital Payment, International Journal of Pure and Applied Mathematics, Volume 119 No. 17, pp 2167-2175.
Halttunen, Veikko 2016. Consumer Behavior in Digital Era – General Aspects and Findings of Empirical Studies on Digital Music with a Retrospective Discussion Jyväskylä: University of Jyväskylä, 2016, 70 p.
Igbaria M,.1994. "An Examination of the factors contributing to Micro Computer technology acceptance". Journal of Information system, Elsevier Science, USA. vol. 27, No.1, pp. 51-90
Iqbaria, M. 1994. "An Examination of Factor Contributing to Micro Computer Technology Acceptance". Journal of Information system Quarterly, Vol. 13, No. 6, pp. 349-361.
Joshi, D. C. 2018. Consumer attitude and intention to adopt mobile wallet in India – An empirical study. International Journal of Bank Marketing Emerald Publishing Limited.
Kim, C., Mirusmonov, M., & Lee, I. 2010. An empirical examination of factors influencing the intention to use mobile payment. Computers in Human Behavior, 26(3), 310-322.
Kusumah, E. P. 2018. Technology Acceptance Model (TAM) of Statistical Package for the Social Sciences (SPSS) Applications. Integrated Journal of Business and Economics, 2(1), 1-11.
Kusumah, E. P., & Christianingrum, M. 2018. Analysis of Decision Factors to Purchase Organic Fertilizer by White Pepper Farmers. Munich Personal RePEc Archive. pp.144-154.
Lee, J. Y. and Panteli, N. 2010. Business Strategic Conflict in Computer-mediated Communication, European Journal of Information Systems, Vol. 19, No. 2, pp. 196–208.
Liébana-Cabanillas, F.J., Sánchez-Fernández, J. & Muñoz-Leiva, F., 2014. Role of gender on acceptance of mobile payment. Industrial Management and Data Systems, 114(2), pp.220–240.
Liu, S., Zhuo, Y., Soman, D., and Zhao, M., 2012, "The Consumer Implications of the Use of Electronic and Mobile Payment Systems", Rotman School of Management, University of Toronto, Toronto.
Mallat, N. 2007. Exploring consumer adoption of mobile payments-A qualitative study. The Journal of Strategic InformationSystems, 16(4), 413-432.
Marangunić, N. and Granić, A. 2015. 'Technology acceptance model: a literature review from 1986 to 2013', Universal Access in the Information Society, 14(1), pp. 81–95. doi: 10.1007/s10209-014-0348-1.
Muijs, D. 2010. Doing Quantitative Research in Education with SPSS. 2nd edition. London: SAGE Publications.
Priyono, A. 2017. Analisis pengaruh trust dan risk dalam penerimaan teknologi dompet elektronik Go-Pay. Jurnal Siasat Bisnis.
PwC Survey. 2019. CEOs' curbed confidence spells caution. 22nd Annual Global CEO Survey
Rajan M.A., 2011, The future of wallets: a look at the privacy implications of mobile payments,"CommLaw Conspectus", 20.
Saunders, M., Lewis, P. & Thornhill, A. (2012). Research Methods for Business Students. 6th edition. Pearson Education Limited.
Sekaran, U. 2006. Research Methhods For Business. Salemba Empat, Jakarta.
Sushil Punwatkar and Manoj Verghese 2018. Adaptation of e-Wallet Payment: An Empirical Study on Consumers' Adoption Behavior in Central India, International Journal of Advanced in Management, Technology and Engineering Sciences, Volume 8, Issue III, pp.1147-1156.
Teo, Aik-Chuan, Garry Wei-Han Tan, Keng-Boon Ooi, Teck-Soon Hew, and King-Tak Yew. 2015. "The Effects of Convenience and Speed in M-Payment." Industrial Management & Data Systems 115 (2): 311–31.
Tuteja, R. A. 2017. Paytm's wallet business: on a growth trajectory or suicide mission? The CASE Journal Emerald Insight, Vol. 14 Issue: 1, pp.112-138.
Turner. M, Barbara Kitchenham. B, Brereton. P, Charters. S, David Budgen. D 2009. Does the technology acceptance model predict actual use? A systematic literature-review. Information and Software Technology journal homepage: www.elsevier.com/locate/infsof.pp.463-479.
Venkatesh, V. & Davis, F.D.., 2000. A theoretical extension of the technology acceptance model: Four longitudinal field studies. Management Science, 46, pp.186–204.
Wang, Z., & Li, H. 2016. Factors Influencing Usage of ThirdParty Mobile Payment Services in China: An Empirical Study.
Weng, F., Yang, R.-J., Ho, H.-J., & Su, H.-M. 2018. A TAM-Based Study of the Attitude towards Use Intention of Multimedia among School Teachers.